1st Round #17: Nate Solder, OT, Colorado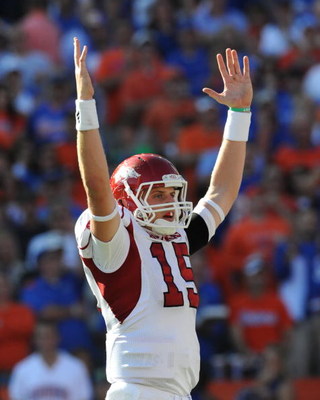 2nd Round #33: Ras-I Dowling, CB, Virginia
2nd Round #56: Shane Vereen, RB, California
3rd Round #73: Stevan Ridley, RB, LSU
3rd Round #74: Ryan Mallett, QB, Arkansas
5th Round #138: Marcus Cannon, OT, TCU
5th Round #159: Lee Smith, TE, Marshall
6th Round #194: Markell Carter, DE, Central Arkansas
7th Round #219: Malcolm Williams, CB, TCU
The Patriots are certainly known to build through the draft so anything I say here criticizing them, make it known that I am fully aware that Bill Belichick knows what he is doing. With that said, looking through these picks I believe the Pats kind of dropped the ball a little this year. Yes, they got some great value picks in the mid-rounds, but failed to address a glaring need on the defensive line.
Before I get into the picks, I'd just like to give a virtual slap to Jeff Ireland and co. for not learning more from the way Belichick maneuvers throughout the draft. It's like, watching a ballerina do her little spins on stage. It's beautiful. Belichick somehow managed to turn the 28th pick in the 1st round into an additional first round pick in 2012, from the New Orleans Saints. I'm not sure how he did it, but he did. Props to you.
Moving on. Some had expected the Pats to try and trade up in the first round, but they stayed put and with their first, first round selection, they took Nate Solder, a huge (6'9) offensive tackle out of Colorado. A need pick for sure, with left tackle Matt Light on his way out. Solder needs to play lower and develop more of a mean streak, but will certainly develop into a starter for a long time on the line.
As I said, they moved out of the 28th pick with a trade with the Saints, picking up a first rounder next year and the Saints second rounder (#56 overall) this year. With an entire day on the clock, many once again expected a team to trade into the number 33 spot to try and grab a quarterback (with Andy Dalton still on the board), but nobody did. I expected the Pats to grab their future pass rusher in this spot (Brooks Reed, perhaps?) but the Pats instead took Ras-I Dowling. This pick kind of surprised me. Not that Dowling isn't talented, but he missed most of the 2010 season with injuries and the Pats had bigger needs.
After this, the Pats surprised everyone but using their next two picks on running backs. We all know the Pats like to use a running back by committee approach, which is why I expected them to draft one running back this year. I did not expect two. With Benjarvus Green-Ellis and Danny Woodhead set to return, I have no idea how the Pats plan to use all four of them. But that's Belichick for us, I'm sure he'll find a way.
Now the pick I'm sure everyone will want to talk about. Ryan Mallett was at one point projected to be a sure-fire first rounder. But, he was in a freefall, until the Pats snatched him up with the 74th overall selection in the 3rd round. Not sure how many people saw that coming. Personally, I don't think Mallett could've ended up in a better situation. Remember, this is same organization that got Randy Moss to shut up and play for awhile. Any character concerns about Mallett will not be tolerated in New England. He will have a few years to learn behind arguably the best quarterback in the game today and possibly ever. He has no pressure on him to perform right away. He is not in a place where nightlife will be a distraction. (Ever been to Foxboro? There is nothing going on.) I'm just hoping that in five years, he will not be torching us. I'm hoping the Pats eventually decide to use him in some trade offer. *Fingers crossed* But definitely a great situation for Mallett to find himself in.
In the fifth round, the Patriots may have found themselves the steal of the draft in OT Marcus Cannon. Many experts had Cannon ranked with first round talent, but a diagnosis of cancer dropped Cannon down to the fifth round. He may not be able to play this season, but will certainly be a solid player once he recovers. As much as we all hate the Pats, this is a feel-good story and I hope nothing for the best for this kid.
Also in the fifth, the Pats drafted Lee Smith, a 6'6 tight end out of Marshall. Smith has a chance to fill a role similar to what Alge Crumpler did last season, a blocking-type role. Smith may never be a star but will fill a role.
In the sixth round, the Pats finally addressed their defensive line need by drafting Markell Carter, a defensive end out of Central Arkansas. Carter will need a few years to develop but certainly has some upside. He was undersized as a defensive end and will probably stand up for the Pats. He has the strength to be a good pass-rusher in the future, but I believe the Pats should've addressed this need a little earlier.
Overall, another solid, if not a little unorthodox draft for the Patriots. They addressed a few needs, especially on the offensive line, but they needed to shore up the defensive line as well and did not do that. I expect they will in free agency, whenever that comes around.
I love the Mallett pick and the Cannon pick. The rest I am on the fence about. I'm certainly not a fan of the back to back running back selections. But I am certainly nobody to question Bill Belichick and his decisions, and I'm sure I'll be proven wrong in a few years. For now…
Grade: B-
Other Teams:
Tags: Andy Dalton Bill Belichick Danny Woodhead Jeff Ireland Lee Smith Malcolm Williams Marcus Cannon Markell Carter Nate Solder New England Patriots NFL Draft Randy Moss Ras-I Dowling Ryan Mallett Shane Vereen Stevan Ridley