1st Round #15: Mike Pouncey, OG, Florida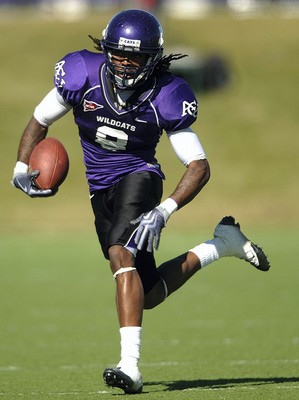 2nd Round #62: Daniel Thomas, RB, Kansas State
4th Round #111: Edmond Gates, WR, Abilene Christian
6th Round #174: Charles Clay, TE/FB, Tulsa
7th Round #231: Frank Kearse, DT, Alabama A&M
7th Round #235: Jimmy Wilson, CB, Montana
Jeff Ireland and Co.'s first draft without the Big Tuna looking down upon them. How'd they do? Honestly, I think they did pretty well. Instead of trying to get all flashy and end up reaching for a big name talent like Ryan Mallett, they stayed home and made some safe picks that filled some giant holes.
From what I have heard and read, the Dolphins were trying to do anything and everything to trade out of the 15th spot. The phones were not ringing though, so what could they do if nobody had any interest? They did the smart thing and drafted Mike Pouncey who immediately fills a hole on the offensive line. Which hole? We aren't sure yet. Sparano says center, we say guard, we'll see who is right. For all of you saying we should have taken a quarterback here, the ONLY one who may have made sense would have been Andy Dalton. Going for Mallett or Kaepernick in that spot would have been a massive reach. I have a feeling if Jake Locker or Christian Ponder were available in that spot, we would have one of them right now. But there is nothing we can do if two teams in front of like those QB's as well. In the spot we were in, the only pick that made sense was Pouncey or Mark Ingram.
The Dolphins didn't have a pick in the second round, but they traded away their 3rd and 5th to move up and grab Kansas State running back Daniel Thomas. Honestly, I was really surprised we traded up to get a running back. I fully expected the pick there to be Mallett (though I'm glad it wasn't). There were some good running backs still available, I don't think we needed to trade up. Either way, I like Thomas a lot. He is a big back (6'2, 228 lbs) and carried the load for the Wildcats. In 2010, he has over 1,500 yards rushing and 19 TD's. He is exactly the type of running back this regime loves.
I am absolutely in love with our fourth round selection, Edmond Gates. For months we have been saying we that need a burner, somebody to stretch the defense and make room underneath for Brandon Marshall and Davone Bess, and now we have him. Gates should fit in right away and make this offense more open. Gates is still a little raw and will need time to develop his route-running abilities, but I believe he was a steal in the fourth round and I love the pick.
Charles Clay is an interesting selection. He is the typical H-back type player, who can line up at fullback, tight end, or be sent in motion. I will admit I don't much about the kid but from what I've seen, I like the pick a lot. Good compliment to Anthony Fasano. Frank Kearse is a big big man at 6'5, 325 lbs, but will take some time to develop. If nothing else, he will certainly take up some space in the center.
I'm sure by now most of us have heard the story of Jimmy Wilson. Wrongly accused for murder, spent years in jail, and got an NCAA exemption for a sixth year of eligibility to play at Montana. He has good size and plays very physical. If his character concerns aren't legit, this is a feel-good story and possibly a steal for the Phins so late.
The more I look at this draft, the more I like it. I know we didn't get our quarterback of the future, but after the first four were taken, the only one I would've been happy with was Colin Kaepernick, but he went way too early for us to get him. There is still free agency and to be honest, I'm okay with giving Chad Henne one more year to work himself out. He now has a speed receiver and a new OC and maybe that is just what he needs to become a good player. We'll see, but I think Jeff Ireland did a fine job in his first draft.
Grade: B+
Other Teams:
Tags: Andy Dalton Anthony Fasano Brandon Marshall Chad Henne Charles Clay Christian Ponder Colin Kaepernick Daniel Thomas Davone Bess Edmond Gates Frank Kearse Jake Locker Jeff Ireland Jimmy Wilson Mark Ingram Miami Dolphins Mike Pouncey NFL Draft Ryan Mallett Tony Sparano