Miami Dolphins fans have reason to like Ravens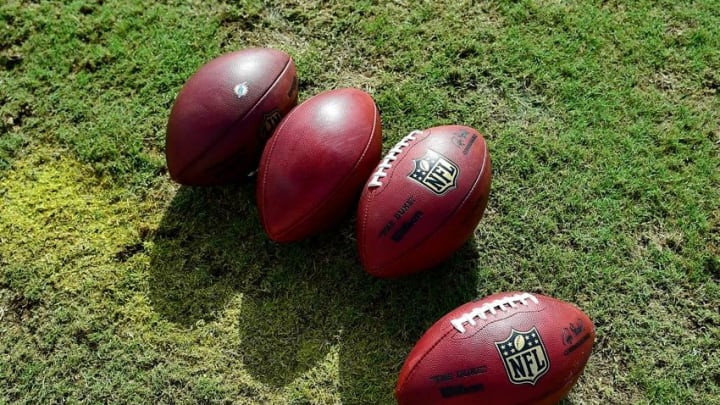 Aug 4, 2016; Miami Gardens, FL, USA; NFL football are seen at the practice field during practice drills at Baptist Health Training Facility. Mandatory Credit: Steve Mitchell-USA TODAY Sports /
The win-loss record going back for these two teams is lopsided toward the Ravens in seasonal play and them also knocking the Miami Dolphins from the playoffs by large margins the last two times before this season (2009 & 2002).
Once in a while an NFL team owner will make a statement that can resonate among most fans of all teams including the Miami Dolphins. If you take umbrage with the nature of his statement on  NFL commercials or feel it is inaccurate then please leave comments below.
"It doesn't take a genius to figure out that nobody wants to see two minutes of commercials, come back, kick the ball and then go to a minute-and-a-half of commercials," Bisciotti said Tuesday. "I've thought that was absurd since I was 20 years old."
Ravens owner Steve Bisciotti NFL commercials statement on BaltimoreRavens.com.
Having two NFL commercials for every game score has to be high on the list for what would drive ratings down. After a touchdown or a field goal the game goes to break to then come back for the ensuing kickoff. If there is no big kick off return then the only action is seeing a kick returner kneel in the end zone before going right back to another commercial break. The NFL has made changes on kickoffs due to player safety concerns that might have a side effect where teams now elect to take the touchback and down the ball.
Sometimes some game action gets missed from the networks not returning from commercial beaks in time leaving the viewer to wonder; What just happened? How did we get to this point?
A rough estimate is that two-thirds of an average NFL game is composed by commercials. Making a game where the official game playing time is one hour stretched out to three hours. If the viewers choice is to watch the game live (most hardcore fans do) then there is not much one can do outside of time shifting with a DVR and is really not that authentic live game experience that most crave.
This experience of having to watch the game live is most likely adherent to older generations were there was only three over the air channels and not many other means of watching media. Whereas the newer generations are now coming up not even wanting cable TV but instead watching things like YouTube and a multitude of other like online streaming junctions or video on demand.
Looking at how the new generation views media this downward trend on NFL ratings should continue. ESPN subscriptions have taken a hard hit and they broadcast some NFL games.
I can attest from being a cord cutter myself two months short of a year now and following media stories covering this side of things that there is an ongoing trend and any outliers (Presidential election Etc.) should not hinder the way things are going. There is also a trend back to using the old-fashioned TV antenna. Funny calling it old-fashioned when that was the original means prior to the big cable TV boom.
Things tend to go in cycles even the "big" game coming up that some call "super" copyright © has lost it's luster on the special commercials that many had clamored over.
Lackluster game play can factor in, both the Packers and Steelers showed poor performances for the last week of playoff games. Another outlier this season was not many close scoring games, you have to go back a decade the last time there were so many.
So what will become of this? Probably nothing and this statement from this NFL owner will be lost in the annals of time. The owner made this statement a little over a week ago and it has gotten little traction. There is a small chance that other owners will join in offering the same stance and try to make something of it possibly in owners meetings and working it into the next collective bargaining agreement. Not likely but one can dream for a better product that so many love.