Dolphins bring back William Hayes and new Dolphinstalk podcast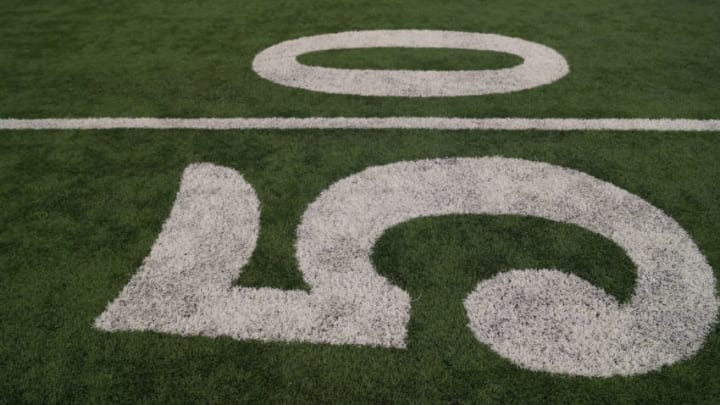 The 50 yard line inside the Dolphins practice bubble. - image by Brian Miller /
The Miami Dolphins have decided to keep the "mermaid" believing William Hayes another year and that is a good thing.
According to reports the Dolphins have decided to bring back defensive end William Hayes on a one year deal. Hayes is a very good run stopping defense and he did well with the Dolphins in 2017. He spent the final part of the season on IR but is expected to be back fully for 2018.
Hayes' return brings more questions to a defensive end unit that is suddenly full of talent. Cameron Wake appears to be staying, Andre Branch will be back, Charles Harris is entering his 2nd season with the Dolphins, and Miami traded for Robert Quinn. Is someone going to go or will Miami simply rotate them all on the field?
Hayes is just one part of a puzzle that is still missing the edges. The Dolphins believe they have a "plan" for moving forward. On Wednesday they restructured the contracts of Reshad Jones and Ryan Tannehill. Tannehill reduced his base pay to the league minimum and took the difference in signing bonus.
Miami is also hosting Pro-Bowl guard Josh Sitton and could sign him as early as today. For all of the latest news it's time to hop over to DolphinsTalk.
On today's show they are joined by former Miami Dolphins WR Mark Clayton. Mark talks with us about his time in Miami and what it was like playing with Dan Marino and for the legendary Don Shula.
They also talk about all of the latest news and rumors taking place with the Miami Dolphins as this is officially Day 1 of Free Agency. They discuss the contract restructure of Ryan Tannehill. The Josh Sitton to Miami rumor and what is happening there. Is Chad Henne coming back to Miami? The Dolphins canceling their dinner/meeting with Baker Mayfield and so much more.
To listen simply click here and enjoy!