Dolphins' Fins Weekend 2018 coming first week of June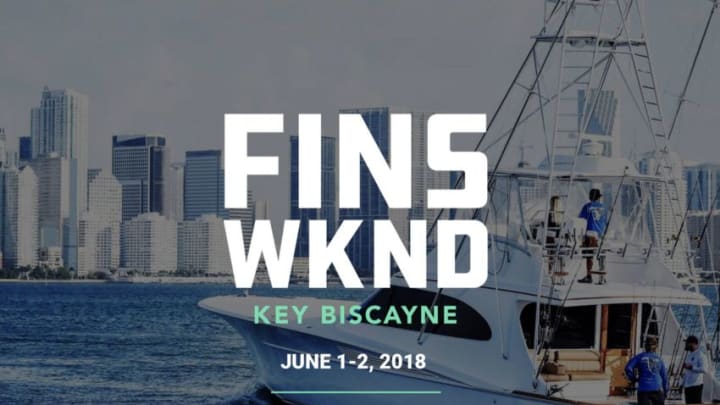 Fins Weekend - image courtesy of Miami Dolphins /
The Miami Dolphins and the Miami Dolphins Foundation are hosting their 22nd annual Fins Weekend on June 1st and June 2nd.
This years Fins Weekend will open with a sponsor reception on Friday and conclude on Saturday with a fishing tournament and gold tournament in the morning and a party later that evening.
Tickets to the event are on sale now with proceeds going to scholorship and mentoring programs for South Florida's youth with the hopes of improving graduation rates.
The fishing tourney begins at 6:00 am while the gold tourney begins at 7. Unless you are Superman, you obviously can't do both.
The event will be filled with alumni and current Dolphins players as well as coaches and cheerleaders. Sam Madison spoke about the event earlier today during a conference call with some of us web-site people.
Madison pointed out that this years event will be the largest gathering of players, alumni, and coaches in the 22 year history of the event. He says while it is all in good fun, the trash talking is as good as it gets.
The event was originally a way to help a former Dolphins intern named Scott Chase who had cystic fibrosis. Chase was a friend of Madisons. He recalled to us the first Fins Weekend event which was also his first time on the ocean in a boat.
""Me, Jason Taylor, Dan (Marino) and others got on a boat and headed out. Some of us didn't take sea sickness pills and got sick. I took mine I was o.k. but we had to come back early. The event then was two days one with a fishing tournament and the next day a golf one.""
The events have been successful as they have grown each year in size. Madison also let us know that if you are interested, there is still openings for the fishing tournament. The information can be found on the below link.
Tickets to the events are still available and Dolphins rookies will be on hand at the weigh-in at the fishing tournament. You will be able to meet them, get autographs and take pictures with them.
For ticket information please visit FinsWeekend.com for more information on the events, times, and of course to buy tickets.