First Miami Dolphins depth chart released with little suprises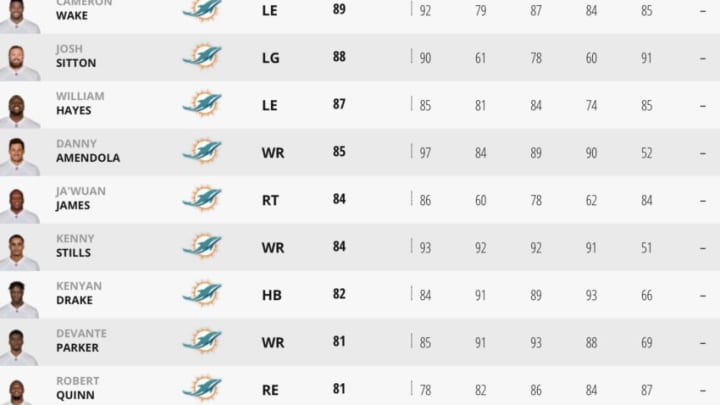 Top 10 Miami Dolphins on Madden 2019 - image capture from EAsports.com /
The Miami Dolphins now have their first depth chart of the 2018 season releasing it to the media a short time ago. There are not many surprises.
The Miami Dolphins depth chart will be fluid for the next few weeks as they prepare to finalize their roster towards the start of the regular season. As the training camp continues and pre-season games begin on Thursday, the Dolphins depth chart could change.
In reality there is nothing here and fans shouldn't get worked about anything as changes will and likely do occur. Here is a look position by position and what I think of the depth chart.
QB – Tannehill, Fales/Osweiler, Petty
We knew Tannehill was the starter but the Dolphins depth release has both Fales and Osweiler as the number two QB, in fact the chart reads, "Fales or Osweiler". The battle is continuing and likely won't have one designated any time soon. Clearly however, Petty is the odd man out at this point.
RB – Drake or Gore, Perry, Ballage, Radcliff, Howell
Kenyan Drake is the starter but the Dolphins may open the season with Gore taking the first hand-off given his longevity in the league. What we do know is both players are expected get carries this season.
WR – Parker, Grant, Carroo, and Owusu
Wr – Amendola, Ford, Morgan
WR – Stills, Wilson, Scott, and Lewis
Nothing surprising here at all.
TE – Gray, Derby, Escobar, Duarte, Gesicki, and Smythe
The TE's will change and Mike Gesicki is already taking a lot of reps with the number one unit. Expect Duarte and Escobar to drop down to the 3rd and 4th units.
Offensive line – Tunsil, Sitton, Kilgore, Davis, and James
We knew this was the line entering camp and that hasn't changed. Probably won't as the Dolphins are hoping this unit can become very good by the start of the season.
Defense
DE – Wake, Hayes, Branch,
DE – Quinn, Harris, Malveaux
The Dolphins are rotating their defensive ends often which makes this kind of moot chart. It is more interesting to see what sides they are lining up on.
DT – Phillips or Godchaux, Wright
DT – Spence, Taylor, Pittman, Moten
Nothing much surprising here. Godchaux and Phillips have been alternating.
CB – Howard, McTyer, Lippett
CB – McCain, Tankersley, Davis
This is such a fluid situation right now with a big camp battle between Bobby McCain, Cordrea Tankersley, and Tony Lippett for the starting spot opposite Xavien Howard.
S – Jones, Smith, Lucas,
S – McDonald, Fitzpatrick, Aikens
Fitzpatrick is going to play a hybrid role so there really isn't a spot for him on any depth chart for now.
Kickers – Sanders, Joseph
So far Jason Sanders is having a much better camp than fellow rookie Greg Joseph.
Returners:
K – Grant, Perry, Wilson, Ballage, McTyer, Drake
P – Grant, Amendola, Wilson, Morgan, Drake
Again the team is moving players in and out so this will likely change after Grant who seems to be the top guy they like in this area.
Miami needed to have a depth chart ahead of the Tampa Bay game Thursday night.