Miami Dolphins fall short in pre-season game three against the Ravens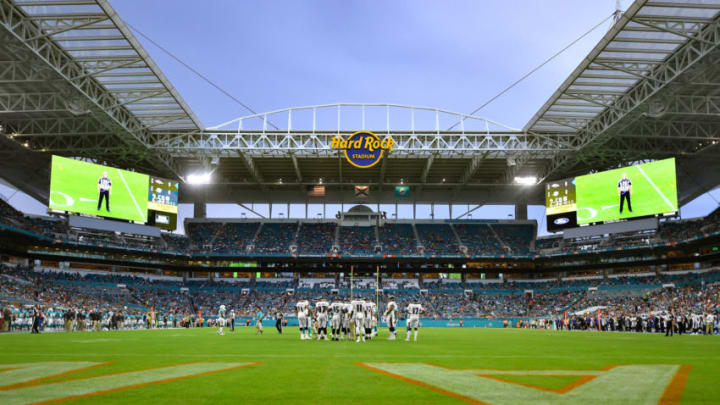 MIAMI, FL - AUGUST 25: A detailed view of Hard Rock Stadium in the first quarter during a preseason game between the Miami Dolphins and the Baltimore Ravens at Hard Rock Stadium on August 25, 2018 in Miami, Florida. (Photo by Mark Brown/Getty Images) /
The Miami Dolphins fell short, in their attempt to keep up with Baltimore on the score board, Even though the Ravens played very few starters on the night.
Right off the bat Miami Dolphins quarterback Ryan Tannehill came out cold.  He fumbled a snap in shotgun formation, but fell on it to recover it, but still, it was a loss of down. Later nearing the end of the quarter he also fumbled under center, but he also recovered it.
From a fans perspective, this is not what you tuned into see, because this is more of the same kind of thing we have seen for years, inconsistency. The offensive line did a pretty good job keeping Tannehill on his feet for the most part, minus one sack, but is Tannehill holding the ball to long? Are the receivers getting open? This will require some film study.
Next point, The 1st team defensive front played with lots of energy, getting a couple sacks, a few hurries on the QB, and stopping the run game to minimal yardage. The back-end of the defense is still shaky. The corners seem to struggle and no one looks to be winning the starting job opposite of Xavien Howard.
Bottom line is, Tannehill needs to limit mistakes, his own mistakes, and be more consistent with his own offensive line. Kenyan Drake needs to continue to be, well, Drake. He has looked good in all the preseason games and looks ready for the season and to make an impact. Jakeem Grant? we hope he recovers soon, we are going to need him back returning the football. David Fales and Brock Osweiler? We already know what we need to about these two, and it is not comforting.
The Falcons are our next challenge, as well as the last opportunity for the bubble players trying to make the roster, stay tuned for roster changes, with who stays and who goes.