Miami Dolphins make their first cut as Jason Sanders wins job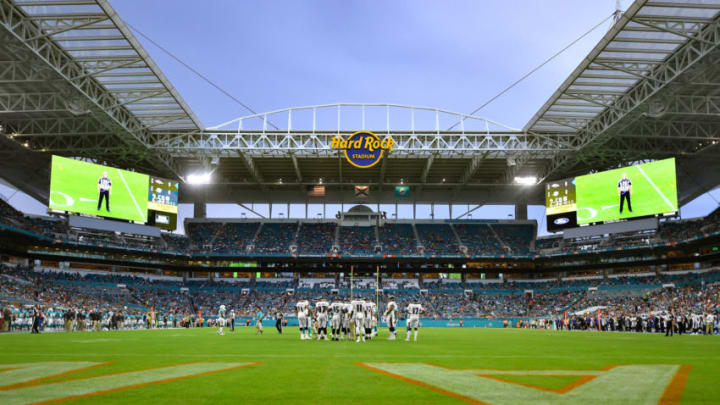 MIAMI, FL - AUGUST 25: A detailed view of Hard Rock Stadium in the first quarter during a preseason game between the Miami Dolphins and the Baltimore Ravens at Hard Rock Stadium on August 25, 2018 in Miami, Florida. (Photo by Mark Brown/Getty Images) /
The Miami Dolphins may have made their first cut on their way to completing their final 53 man roster and in doing so ended the kicking battle. Jason Sanders won the job.
Miami hasn't officially announced the release of undrafted rookie free agent kicker Greg Joseph but the word on social media is that 7th round rookie Jason Sanders has won the kicking competition.
The New Mexico State alumni has kicked well enough in pre-season but there is still a lot of speculation on whether or not he will be on the roster at the end of the year. Sanders has a big leg but has missed some kicks over 50 yards. Joseph on the other hand was doing better with the distance kicks as opposed to the shorter and mid-range kicks.
It has been reported over the entire training camp sessions that special teams coach Darren Rizzi  like both of his kickers but it is now obvious that he liked Sanders just a bit more.
The last two years the Dolphins didn't announce their releases until after the 4:00 deadline most of the release notifications came from players and/or player agents. It's likely that the Dolphins take the same path today and tomorrow.
37 players must be released to get to the 53 man roster limits. Players can be placed in injured lists if they qualify. This will allow the Dolphins to keep that player on the roster. This is a likely scenario for linebacker Mike Hull.
Players that are cut are subject to the NFL's release rules with most players subjected to the waiver rules. Miami is in the 11th spot for waiver claims. Miami can start adding players to their practice squad on Sunday.