Cameron Malveaux and Leonte Carroo join Miami Dolphins practice squad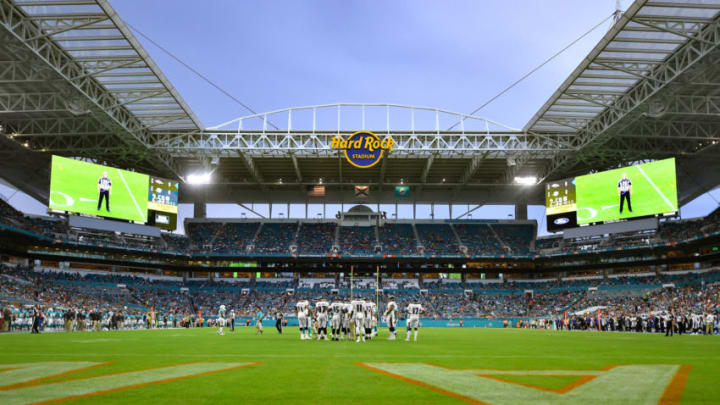 MIAMI, FL - AUGUST 25: A detailed view of Hard Rock Stadium in the first quarter during a preseason game between the Miami Dolphins and the Baltimore Ravens at Hard Rock Stadium on August 25, 2018 in Miami, Florida. (Photo by Mark Brown/Getty Images) /
The Miami Dolphins have started to fill out their initial 2018 practice squad with Cameron Malveaux and Leonte Carroo returning.
Like the rest of the NFL the Miami Dolphins are trying to shape their practice squad and familiar names are returning. According to the media, Cameron Malveaux and Leonte Carroo who were cut on Saturday are coming back as members of the squad.
The Dolphins may have gotten lucky with Malveaux not being claimed. The talented defensive end still needs some refining but there is a lot of potential in his future. Carroo was drafted by the Dolphins and Miami actually spent a 3rd and 4th round draft pick to move up to get him in 2016.
Though he has three years experience, Carroo has hardly made a dent in Miami's offense.
Miami also claimed wide-receiver Tanner McEvoy which could make it harder for Carroo to break back into the 53 man roster. Carroo has talent but he hasn't been able to take advantage of the reps that he has received which will always hinder a receivers growth.
Malveaux will be joined by returning defensive end Jonathan Woodard who was also released from the DE group on Saturday.
So far there is not much regarding a potential return for wide-receiver Isaiah Ford or rookie linebacker Quentin Poling. Miami is still likely sifting through the new free agents that hit the market on Saturday evening.
The Dolphins will have a fluid practice squad as they continue to rotate in the hopes of finding potential players for the 53 man roster.
So far the Dolphins have added Carroo, Woodard, Malveaux, Isaac Asiata, and Jalen Davis. They will have four remaining spots to fill before they are finished.