Miami Dolphins post game recap: The good, bad, and ugly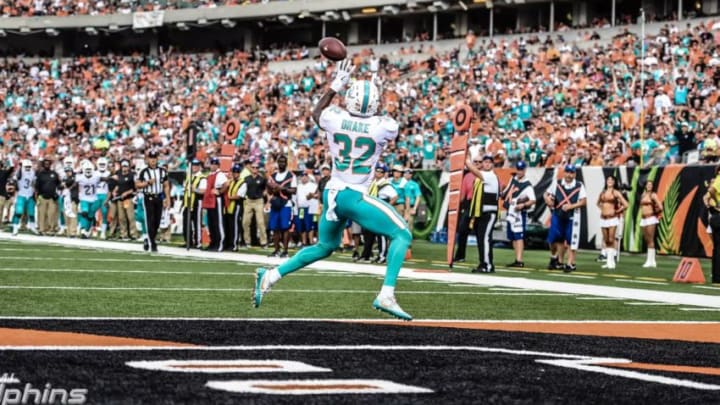 In this week's recap, The Miami Dolphins got embarrassed in one of worst 4th qtrs. since the Monday Night Meltdown. The offense suffered more o-line injuries than they could bear and eventually crumbled into an ugly turnover-filled second half.
Following the Miami Dolphins match up with the Bengals, we take a broad look at what went well, what needs work, and what should be alarming. The good games and the bad have lessons to be learned and we look at the apparent ones.
The Good:
Matt Burke
The defensive scheme to slow down the high flying Bengals was a good one. He brought good blitzes and countered the screen game very well. The defense only allowed one touchdown and a couple of field goals which would have been enough to beat Cincinnati this Sunday. AJ green and Joe Mixon were quiet relatively quite against a defense that was supposed to struggle against the run and fast receivers. Matt did enough preparation and had a good enough game plan to put Miami in a position to win.
Reshad Jones
It appeared obvious that Jones is still not 100% with his right shoulder. That may have prevented him in grabbing an interception late in the game. When Reshad is in, the defense is organized and effective. When he is absent, there is miscommunication and confusion. Whether that is a direct correlation to Jones' presence, that cannot be proven, however, it does appear to be the case. Reshad played a solid game, leading the team in tackles and passes defended.
Jakeem Grant
Grant was brought in to be a game-changer on special teams. So far this season he has been just that. Grant was able to bust the game open with a beautiful punt return that put Miami up by 14 right before the half. Unfortunately, that would not be enough to seal the game. If Jakeem is able to continue his production on special teams, he will be able to seal games for Miami and punters will start punting away from him and that usually results in fewer net yards.
The Bad:
Ryan Tannehill
When Ryan had time and protection, he had a very solid first half of football. When Laremy Tunsil went down and was replaced with Sam Young, Tannehill's play immediately went to absolute garbage. The reason Ryan's play degenerates so quickly under a bad line is due to poor footwork at times and his inability to get rid of the ball. His pocket awareness has always been a work in progress and when there is constant pressure, Ryan buckles.
Matt Haack
There is no denying that Matt has an extremely strong leg. However, Haack has struggled with consistency all season and today was another day of boom or bust kicks. Unfortunately, when Miami needed Matt to reverse field position late in the game, he came up bust. Haack will need to start finding a rhythm quickly if he wants to remain in the NFL in the long term.
The Ugly:
Sam Young
Sam Young is not an NFL starter. He probably shouldn't even be an NFL backup. Those two facts don't change the blame he will receive for this game. He lost blocking battles every snap, had holding penalties, missed assignments, and was the biggest factor in the fourth quarter meltdown. Not much more needs to be said about Sam if you were able to watch the game.
Mike Tannenbaum and Adam Gase
Nothing rings truer than the last tweet from Phin Phanatic: "GM & coach are responsible for 53 player rosters, not 22." No matter the injuries, the depth, the unplanned events, NFL teams sign and build 53 NFL players. If a player goes down and his replacement comes in and is obviously not an NFL caliber player, that's on the decision makers of the organization. It has been clear that the decision makers for Miami are Adam Gase with Tannenbaum helping. When Miami loses their starters and the backups come in and are so bad that it's clearly evident there should be no way for that player to be allowed within 50 feet of a locker room, that still falls on the decision makers. Many will say it isn't Adam and Mike's fault that the Dolphins are getting the injury bug… but it completely is.
Final Say
The Dolphins are 3-1 in winnable games. That is still a great statistic to have on your side. Nobody expected the Dolphins to compete in Cinci, yet they did. The Dolphins are insanely frustrating not because they lose games, but in how they lose them. Taking a 17-3 lead into the fourth quarter, where the defense has been lights out, should result in a win. Instead, Miami finds themselves in yet another mud hole after a great start. Last year it started after a 4-2 start. This year it's starting after a 3-0 start. Both seasons find Miami battling injuries and having no depth behind starters. Adam Gase's seat is getting warmer and it may get warm enough to be a hot seat next year.