PhinPhanatic writers predictions, can the Dolphins offense pull out a win?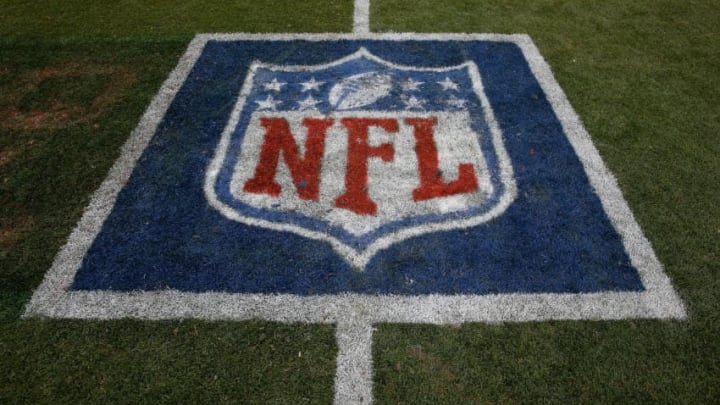 DENVER, CO - SEPTEMBER 14: The NFL logo is displayed on the turf as the Denver Broncos defeated the Kansas City Chiefs 24-17 at Sports Authority Field at Mile High on September 14, 2014 in Denver, Colorado. (Photo by Doug Pensinger/Getty Images) /
On Sunday the Miami Dolphins will return home to face the Bears and the game is not going to be an easy one for Miami, losers of two straight.
All right Miami Dolphin fans, this week the team is back at home and they're set to host the Chicago Bears in week 6. The Dolphins are coming off of a horrible second half collapse last week against the Cincinnati Bengals and now are tasked to handle the #2 overall ranked defense with standout Khalil Mack with a suspect patchwork offensive line.
The PhinPhanatic staff was asked about their predictions for this important home game and lets see which of the staff has faith and which does not.
Eric Frosbutter : The Dolphins are spiraling down after their 3-0 start. The offense is really struggling, and this week they may be without left tackle Laremy Tunsil. Already without their starting center, and left guard, it sounds like a recipe for disaster going up against, arguably, the best defense in the league. Miami plays better at home, but I see Khalil Mack and company consistently in Ryan Tannehill's face all afternoon, and it's going to be very difficult to get points.
                            Bears      17
                           Dolphins 10
Sean Moon : This Miami squad is so inconsistent on offense its hard to predict anything they do. The Miami defense however is playing great ball despite their thin group. Some of those injured players are expected to be back on the field and with a little pressure on the young Chicago qb Michell Trubisky, they should create turnovers and help the offense out. Gonna be a tough game though but I'm looking for a must win game here.
                           Bears      21
                          Dolphins 24
George Keim : A well rested Bears team coming off a bye comes to South Florida to take on the Dolphins.  The Dolphins front 5 has been decimated with injuries which isn't good news with Kalil Mack coming to town.  Tannehill will be running for his life in this game unless Gase gets creative with his play calling.  I'm not confident of this, thus this defensive battle goes to Chicago in a low scoring affair.
                          Bears      20
                          Dolphins10
Perry Jarrell: This week the Chicago Bears come to town, and the Dolphins are looking like a salmon swimming against the current. Based on the last 2 games Miami is on a down hill slide due to injuries. Miami is low on talent, and Gase is running out of band-aids. The Dolphins have to stop the bleeding at home, or be run out-of-town by their own fans.
                        Bears       21
                        Dolphins 17
Gabriel Genovesi : This game will be an offensive struggle throughout. Miami will have trouble sustaining drives against a Bears defense that could easily be the best in the league. In the end, Trubisky is just a little more inconsistent than Tannehill and the Dolphins defense gets the stop it needs.
                       Bears      13
                      Dolphins 16
James Anderson : The Dolphins have six more players injured and one more loss than the Bears who are coming off a bye and a six TD performance with the QB having a near perfect QBR. However I heard a lot of Mitch Trubisky's throws where interceptable which could be an advantage to the Dolphins defense that has played well lately. Andre Branch might be back to bolster the line and if the other line holds up to the Bears and the offense doesn't self destruct again they can win.
                       Bears      17
                       Dolphins 20
Shawn Digity : I don't like this match up at all. This game will have parallels to the Bengals game, where the defense holds strong and makes plays but eventually wears down in the fourth quarter after the offense fails to get going. Both of these teams' defenses are stout and the score will largely be a reflection of that. Mitch Trubisky will have a decent day, throwing for a couple TD's. Khalil Mack and Ryan Tannehill's subpar pocket presence are an oil-and-water combination that will favor the former as he feasts for several hurries, hits and sacks. Is it pessimistic? Yes. Do I hope I'm very, very wrong? Also yes. The cornerstone to the Dolphins success is Laremy Tunsil, who has been in the concussion protocol. If he's up to snuff, I would expect a semblance of scrappiness from the offense, if not…yikes.
                      Bears       24
                      Dolphins 10
Nick Belotto : The dolphins need a win on Sunday to get control of their season back. If that's gonna happen, Miami's defense will need to be the best unit on the field. If they can play hard, and the special teams works some magic, Miami may be able to beat Khalil Mack and the Bears.
                      Bears       10
                      Dolphins 17
Brian Murray:  This is going to be a hard fought defensive battle in the trenches, with Miami winning the take away contest.The Dolphins will get back in the win column, returning back to Hard Rock Stadium. In a low scoring game, Miami will come out on top.
                       Miami 17
                       Chicago 14
Brian Miller: Miami's offense needs to find a way to keep the Bears defense guessing. After five weeks of football the Dolphins really haven't shown that they can play consistently an entire game. The Dolphins will be lucky to keep the game close with their defense but the offense is the biggest key.
                      Bears 28
                      Dolphins 17