Miami Dolphins have another week to wait for Brian Flores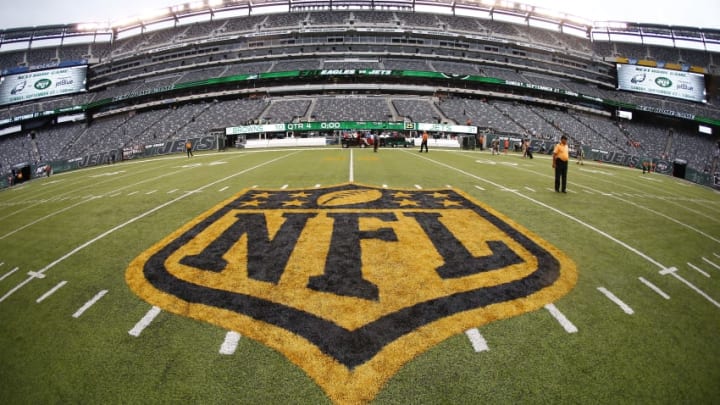 EAST RUTHERFORD, NJ - SEPTEMBER 13: The NFL shield is painted in gold and black after a game between the Cleveland Browns and the New York Jets at MetLife Stadium on September 13, 2015 in East Rutherford, New Jersey. The new color scheme is to commemorate this years' Super Bowl witch will be the 50th edition. (Photo by Rich Schultz /Getty Images) /
The Miami Dolphins search for their next head coach may wait another week thanks to the New England Patriots dismantling of the Chargers.
The leading candidate to take over the Miami Dolphins is Brian Flores who was calling the defensive plays for the Patriots today against the Chargers. Needless to say, the Chargers were easily manhandled by the Patriots defense. So we wait.
Brian Flores called a near perfect defensive game that saw his defensive unit play incredibly intense and physical putting pressure on Phillip Rivers all day. As a result the Chiefs will host the Patriots in the AFC Championship a week from today.
If Flores is the Dolphins top choice they will have to wait until the Patriots season is over or look somewhere else. Dennis Allen and Kris Richard have also been mentioned but Flores seems to be the top choice.
The game plan today for Flores had a lot of people talking on social media including some in the mainstream media but while fans were impressed it should be clearly noted that the Dolphins do not have that same talent on the defensive side of the ball. Flores can't bring the Patriots with him.
It should also be stated that today's game saw a lot of defensive penalties against the Patriots go uncalled. Rivers was hit low several times but only one drew a flag. He was hit in the head as well but only saw the yellow once. Downfield the Patriot defenders were draped over L.A. receivers and did not draw flags. Flores isn't likely going to get the same consideration in Miami.
While that is really nothing more than me pointing out my disgust with the NFL officiating one thing does ring true. Whatever Flores has done in New England is not a guarantee that he will succeed in Miami but it also is not a ringing endorsement that he will fail either.
If the Dolphins do indeed wait another week that clearly Flores is the top choice for the job. Richard is now free to negotiate after the Cowboys were eliminated. Dennis Allen would also be available if the Saints lose to the Eagles.