NFL to release full 2019 regular season schedule on Wednesday night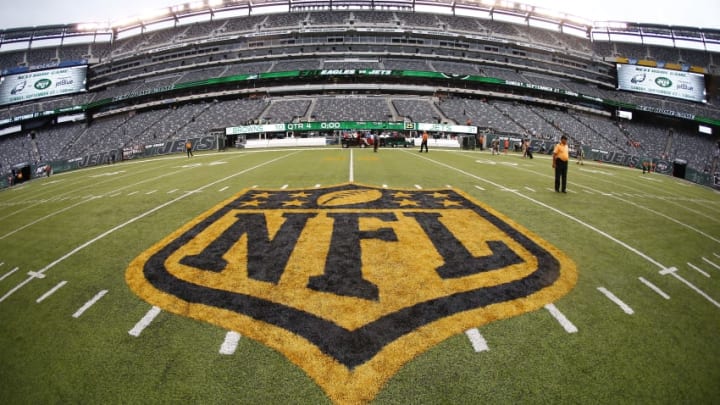 EAST RUTHERFORD, NJ - SEPTEMBER 13: The NFL shield is painted in gold and black after a game between the Cleveland Browns and the New York Jets at MetLife Stadium on September 13, 2015 in East Rutherford, New Jersey. The new color scheme is to commemorate this years' Super Bowl witch will be the 50th edition. (Photo by Rich Schultz /Getty Images) /
The Miami Dolphins and the fans will not have to wait much longer for the NFL schedule. Reports indicate that the schedule will be released tomorrow.
According to several in the mainstream media, tomorrow night at 8:00 and throughout the day via leaks on social media, the NFL regular season schedule will be revealed, thus allowing fans to start making travel arrangements.
Two potential games may have already been leaked. The Dolphins are reportedly traveling to Cleveland to face the Browns on October 20th. This leak is unconfirmed but is reportedly from a leaked Browns schedule that made its way around over the weekend.
The second game appears to be a Thursday Thanksgiving contest in Dallas to face the Cowboys. This leak was courtesy of a website called Sports Business Journal.
There seems to be some legitimacy to the Browns leak given the close nature of the NFL's full release. Each year there is one team that somehow manages to leak their schedule early and thus the rest of the league begins to fill in the gaps through leaks of their own.
Predicting the schedule is hard but we can, for fun try anyways. Here are some highlights from what I expect to see from the schedule tomorrow night.
Road opener – The Dolphins opened at home last year and were scheduled to open at home the year before but were driven out by a hurricane. It's time to open on the road.
Two primetime games – Miami will play on Thanksgiving and another Thursday night game. My guess would be the Jets in Miami for the Adam Gase return.
Cold weather down the stretch – I suspect Miami will play in New England and Buffalo late in the season and get both at home in the middle of the schedule.
Three game road series – It isn't unusual for a team to have three road games in a row and I suspect Miami will see that this year.
Early bye week – The Dolphins have been lucky the last two years with late season bye weeks but this year I think we see it moved up.