Deserving names for the 2019 Miami Dolphins "Honor Roll"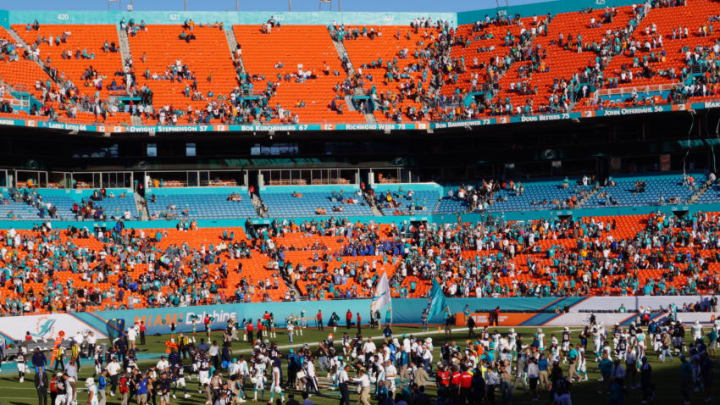 Hard Rock Stadium including part of the Honor Roll - Image by Brian Miller /
The Miami Dolphins have not added to their "Honor Roll" since 2014 when defensive tackle Manny Fernandez was inducted. There may not be a 2019 class.
The Miami Dolphins have yet to announce whether there will be an induction ceremony this season. In fact, there has been no announcement as to whether there will be a Walk of Fame induction either.
The Dolphins honor the best players through their history in two ways. The Honor Roll, previously known as the Ring of Honor and the Walk of Fame. The Honor Roll is for the best of the best. The players that sit atop the Dolphins echelon of greatness.
Those include the Hall of Fame inductees so that should give you some idea on the qualities that those inductees have. It is in essence, the Miami Dolphins Hall of Fame.
Then there is the Walk of Fame. Those players that had good to great careers but didn't quite reach the upper echelon of the teams greatest. The Dolphins have made the attempt to put those on the HR on the WoF. The idea is that a player that sits on the HR should be on the lesser tier to.
A question that is asked every off-season is who deserves to be on the Honor Roll? Not much has changed since Manny Fernandez was inducted in 2014. The Honor Roll consists of 26 individuals and the 1972 Perfect team. Of those 26, one is founder Joe Robbie and one is defensive coordinator Bill Arnsparger. Of course head coach Don Shula is also there.
Ten of those on the Honor Roll are in the Hall of Fame and Richmond Webb, Zach Thomas, and Bob Kuechenberg should be without question.
So who should be next? It is too early obviously to consider Cameron Wake. Wake is still active in the league so there is no way to consider him. Ricky Williams' inclusion is always a debateable topic that brings with it two sides who do not see eye to eye.
Defining greatness for the Honor Roll is difficult and every name comes with its own debate. So let's debate some of the names that should come to mind when we open up the discussion of whether or not a player deserves to go into the Honor Roll, if and when the Dolphins decide to add another name.