AFC East week four recap has the Dolphins still at the bottom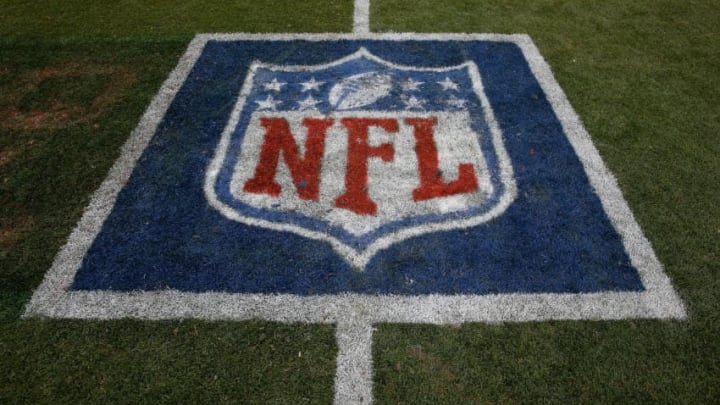 DENVER, CO - SEPTEMBER 14: The NFL logo is displayed on the turf as the Denver Broncos defeated the Kansas City Chiefs 24-17 at Sports Authority Field at Mile High on September 14, 2014 in Denver, Colorado. (Photo by Doug Pensinger/Getty Images) /
The AFC East got a little shaken over the weekend but the Miami Dolphins still remain at the bottom of the division.
On Sunday the Miami Dolphins, Buffalo Bills, and New England Patriots played with the New York Jets taking the weekend off from the AFC East. Four weeks into the season and once again, it's the Patriots division to lose.
New England at Buffalo
The Bills defense did their job and did it well but in the end, their offense, without QB Josh Allen couldn't do enough to beat the Patriots. New England headed home with a 16 – 10 victory.
While the Patriots won the game, the talk afterwards was the loss of Allen to a concussion after a helmet to helmet hit by a Patriots defender. A hit that went unflagged. After the game Bill Belichick had no issues with the hit and said he tackled as he was taught. The hit was clearly helmet to helmet but there was no penalty.
Belichick also stated that they coach the players to the rules but inserted, as they are interpreted. In other words, he cheats when he can. Doesn't matter now or for the Bills. The Patriots are 4-0 and the Bills are 3-1.
Next week the Bills will play at Tennessee and the Patriots will play at the Redskins.
Los Angeles at Miami
Once again for two quarters of the game the Dolphins made it look like they were ready to get their first victory but the 2nd half took its toll and Miami gave up a lot of points. This time the route was a 30-10 outing and aside from a Josh Rosen touchdown, the offense looked anemic for most of the day.
There isn't a whole lot to say about this game as it is pretty much a DVR of the two weeks previously.
The Dolphins are on a bye next week. The New York Jets who are now off their bye week will play the Eagles in Philadelphia.