Miami Dolphins still have open spots for LIVE draft party !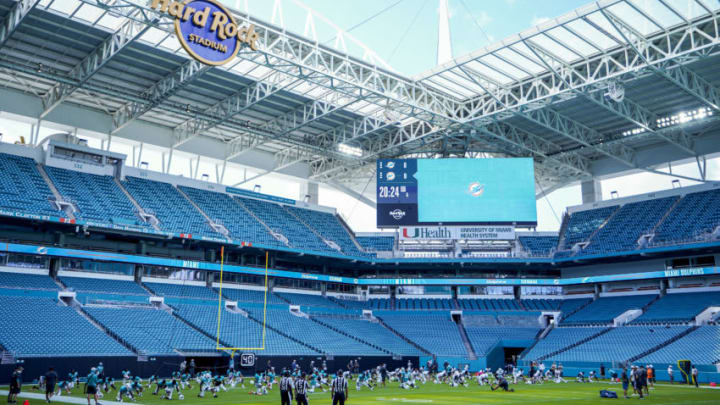 MIAMI GARDENS, FLORIDA - AUGUST 29: A general view of the stadium during Miami Dolphins training camp at Hard Rock Stadium on August 29, 2020 in Miami Gardens, Florida. (Photo by Mark Brown/Getty Images) /
The Miami Dolphins are hosting a live NFL Draft party on Thursday night and while they have already met their capacity goals, there is still time to get in.
Starting on Thursday night, the first night of the draft, you can join your fellow Miami Dolphins fans for the draft. Either live at Hard Rock Stadium or through the team's Youtube Live channel and watch it virtually!
A short while ago we spoke with Dolphins VP of Marketing, Laura Sandall to get some of the inside scoop on what is going on and what you can expect.
Entry to the stadium will begin around 7 PM, one hour before the draft begins. You will be escorted to the field where the Dolphins will have a stage set up. O.J. McDuffie and others will be hosting a show about the Dolphins and later once the draft begins, Dolphins media personalties will keep you updated on the draft and you can watch the draft live on the big screens of the stadium as well.
MIAMI GARDENS, FLORIDA – NOVEMBER 15: Tents and seats are set up outside the stadium prior to the game between the Los Angeles Chargers and the Miami Dolphins at Hard Rock Stadium on November 15, 2020 in Miami Gardens, Florida. (Photo by Mark Brown/Getty Images) /
Mask mandates are in effect to attend and they will be using a staggard entry protocol similar to what they used last year at games but on a much smaller scale. Guests will have an opportunity to watch cheerleaders perform and take a tour of the team's locker room in small defined groups. That is a chance very few fans get.
In addition, the Dolphins will be hosting their annual "garage sale" allowing you to purchase authentic Dolphins memorabilia and even jerseys. All sales benefit the Miami Dolphins Foundation.
For those of us not lucky enought to attend, the "virtual" party will at least allow us to feel like we are there. The virtual show will feature more of what is on the stage and will of course keep you updated on the draft selections throughout the night.
For more information and how to attend the event that is presented by Pepsi, visit here!