Miami Dolphins could be heading for a safety shake up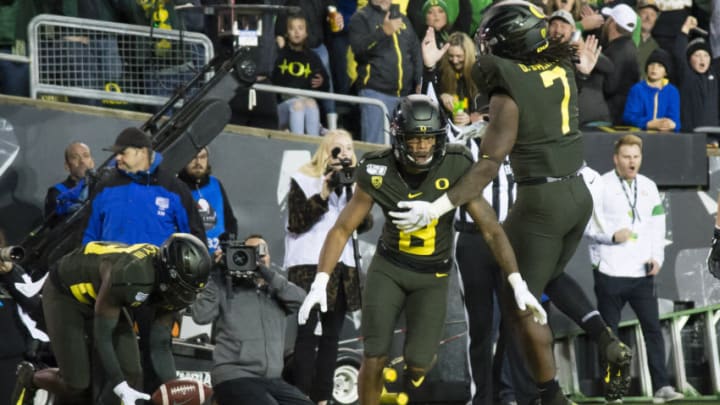 Oct 26, 2019; Eugene, OR, USA; Oregon Ducks safety Jevon Holland (8) celebrates with teammates after intercepting a pass for a touchdown during the first half against the Washington State Cougars at Autzen Stadium. Mandatory Credit: Troy Wayrynen-USA TODAY Sports /
The Miami Dolphins drafted top safety Jevon Holland with their first pick in round two and that could shake up the Dolphins safety unit.
Miami has seven safeties on their roster and will likely carry four or five max into the season. Naturally, that means two or three will have to go. We can assume that Brian Cole will be one of them as well Nate Holley but if Miami is going to create cap space to sign their rookie class, we could be looking at a bigger name.
Clayton Fejedelem really isn't a safety as much as he is a special team standout. Last year was cut short due to injury but Fejedelem will cost Miami $2.4 million against the cap this year and all of that is recovered if he is released or traded.
Bobby McCain is Miami's savvy veteran but is also expensive and whether or not he is in Miami's plans this year or not, there is a good chance he won't be around next year. McCain will count just over $7 million in cap space this year and again next year as well.
Eric Rowe is also a highly paid safety counting $6 million and change, like McCain, his contract is almost entirely recoverable. McCain would save the Dolphins $5.6 million with only $1.4 dead money and Rowe would save $5 million against $1.05.
The problem? Miami would lose a veteran in the secondary and it's unlikely Brian Flores would want to rely on Brandon Jones and Jevon Holland entirely this season. While it is possible, I'm not sure that is the direction they go. Next year, however, we could see both Rowe and McCain gone as Miami transitions to the younger options.
For now, the Holland pick makes sense for the Dolphins. He is a very good safety with great ball skills and will eventually, along with Brandon Jones, replace the two starters in the deep secondary. His drafting does point to changes coming.