Miami Dolphins 2021 regular season predictions post-schedule release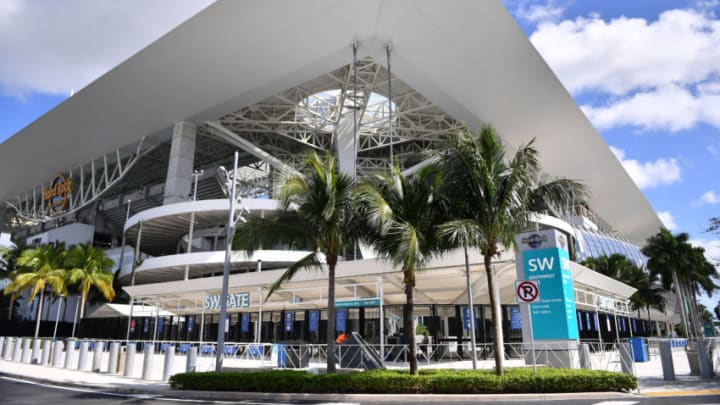 MIAMI GARDENS, FLORIDA - NOVEMBER 15: Covid-19 informational signage displayed on the entrance gates prior to the game between the Miami Dolphins and the Los Angeles Chargers at Hard Rock Stadium on November 15, 2020 in Miami Gardens, Florida. (Photo by Mark Brown/Getty Images) /
MIAMI GARDENS, FLORIDA – OCTOBER 18: Christian Wilkins #94 of the Miami Dolphins celebrates with Tua Tagovailoa #1 after he made his NFL debut against the New York Jets at Hard Rock Stadium on October 18, 2020 in Miami Gardens, Florida. (Photo by Michael Reaves/Getty Images) /
I can't imagine a scenario where the Jets are not significantly improved from last season, especially considering how poor they played as a team last season. I don't think they're going to light the world on fire, but they will be better than last year after a strong free-agent period and even stronger draft.
By the time these two teams meet, rookie Zach Wilson should be about 10-11 starts into his career by this point and maybe developing a bit of momentum that could play in the Jets' favor. That being said, this Jets team is not finished with their rebuild and this new Dolphins offense should be humming by this point in the year especially coming off of two big wins against AFC opponents.
The new Jets coaching staff clearly recognized all of the mistakes that Adam Gase made in New York over these last few years, giving Wilson a pretty solid supporting cast to work with. That doesn't mean, however, that there won't be growing pains for this team and one of them could come in the form of Miami's secondary.
Miami's secondary could have another big outing capitalizing on a rookie quarterback who will struggle his freshman year.
Miami should be able to take their first matchup with New York without much of an issue.
Dolphins record: 7-4