Does anyone know who the 2021 Miami Dolphins are offensively?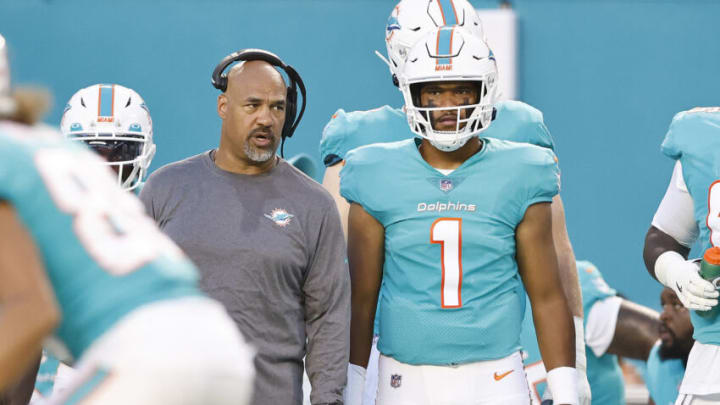 MIAMI GARDENS, FLORIDA - AUGUST 21: Co-offensive coordinator Eric Studesville and Tua Tagovailoa #1 of the Miami Dolphins look on during a preseason game against the Atlanta Falcons at Hard Rock Stadium on August 21, 2021 in Miami Gardens, Florida. (Photo by Michael Reaves/Getty Images) /
Four weeks into the 2021 season, one question seems to be on every Miami Dolphins fan's mind. Who are the 2021 Miami Dolphins on offense? After three games, I do not think anyone within the organization knows. Showing no signs of dominance in any one category on offense, it's confusing to predict just how well the team can perform during game days.
When looking across the league, every established contender has an identity for each phase of football. Just within the division, we can look at the Buffalo Bills as an example; on offense; they have a potent passing game led by the connection of Josh Allen to Stephon Diggs; on defense, their overpowering pass rush leads the way, and on special teams, their consistent kickers carry their special teams' attack.
Self-scouting is an essential tool used to guide players in knowing what they bring to the scheme. Players can get comfort in knowing what mentality to carry them through the week to lead to positive performance on the field.
If you are a run-first team like the Baltimore Ravens, you take pride in being a road grader, plowing the way for anyone with the ball. You know what is being asked of you and where to focus effort to perform at a high level. Also, when you underperform while pass blocking during one snap, it becomes easier to shrug it off and put that frustration of a missed snap into moving guys away during the next running down.
Identities are essential to give teams a personality and define what you want to do every Sunday. After three games into the 2021 NFL season, the Miami Dolphins' offensive personality is do not to suck too bad. At 92.7 rushing yards a game, ranking 23rd in the NFL, the Miami Dolphins are not a running team. Miami Dolphins are not a passing team with 175.7 passing yards, a game 29th in the NFL. Averaging 15 points per game 30th in the NFL, the 2021 Miami Dolphins are not a scoring team.
But all is not lost for the 2021 Miami Dolphins. Starting running back Myles Gaskin has been wildly underutilized by Co-Offensive Coordinators George Godsey and Eric Studesville. The 2019 7th round selection out of Washington is averaging 5.1 yards per carrying. 4.0 yards per carrying is a decent aim point for many when looking at the running back position.
Suppose Miami commits to become a run-first team, giving identity and offensive focus every week. Feeding Myles Gaskin could be the turning point for the 2021 Miami Dolphins. For a team searching for answers after three underwhelming weeks, it is surprising Miami has not already tried the approach.