Miami Dolphins: Jets week on the road means it's MetLife Takeover time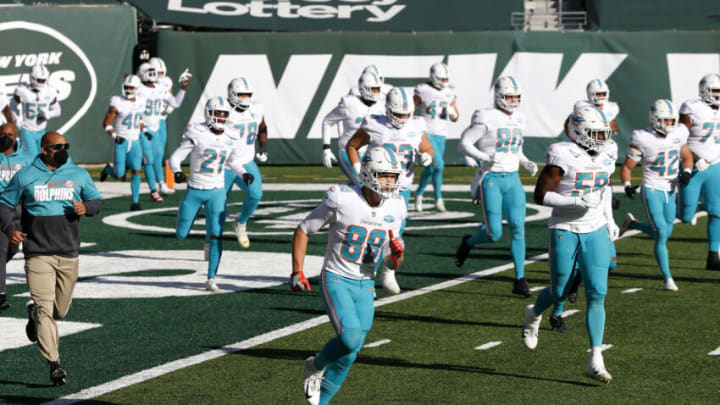 EAST RUTHERFORD, NEW JERSEY - NOVEMBER 29: (NEW YORK DAILIES OUT) Mike Gesicki #88 of the Miami Dolphins takes the field with his teammates for a game against the New York Jets at MetLife Stadium on November 29, 2020 in East Rutherford, New Jersey. The Dolphins defeated the Jets 20-3. (Photo by Jim McIsaac/Getty Images) /
The Miami Dolphins are on the road this coming weekend and they will face the New York Jets so welcome to MetLife Takeover week!
I'm honestly losing count on how many "Takeovers" there have been. I know I have been to only one, the shame I bear is deep. The tickets for this weekends takeover have long since sold out but you can still buy tickets directly from the Jets ticket office in the neighboring section. DolfansNYC does still have tickets available for the massive tailgate party. That is a highly recommended stop if you are going to the game. Visit the link above or click here to contract the DolfansNYC club.
As for the game, well it's J.E.T.S. Suck Suck Suck week and that means the vitriol on social media should start to rise as the game nears. Both teams are coming into the game with expectations to change their seasons around.
The Dolphins are coming off a huge win over the Ravens last Thursday while the Jets are coming off their bye week, well, they lost 45-17 to the Bills so they didn't really play.
While it is easy and fun to poke some fun at the Jets, the reality is both teams have struggled this year. The Jets are rebuilding and the Dolphins were supposed to have already been "built". Yet it was the Jets that were in 3rd place in the AFC East prior to this weekend. Now one game separates the two for the bottom.
The Dolphins should be able to win in New York, while they have struggled in the past, the Jets are simply not a very good football team and the Dolphins have the talent to be better than their record suggests. We saw that on Thursday.
Miami's biggest problem is themselves and they often play down to other teams. Take the Jaguars for example. Miami allowed the worst team in football to snap a losing streak that spanned over 20 games and two seasons.
When it comes to the Jets, anything is possible so there are no guarantees that Miami will grab a win and come home but with their season hanging in the balance week to week now, losing to the Jets could be the nail in the Dolphins 2021 chances.