39 years ago the Miami Dolphins watched the birth of Patriot cheating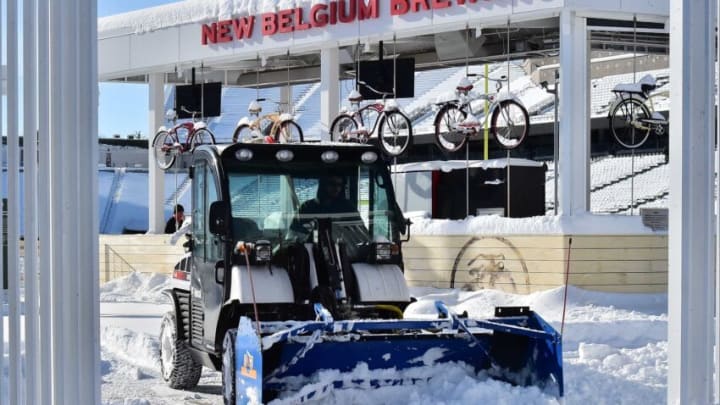 A plow clears snow from the New Belgium Porch at Colorado State's Canvas Stadium on Wednesday, Nov. 27, 2019, in preparation for a Nov. 29 game against Boise State.Plow On Porch /
The Miami Dolphins have experienced some interesting anniversaries in the last week or so. Earlier this week the 3rd anniversary of the Miami Miracle. Today, the birth of the Patriot Way.
It was 39 years ago today that Miami Dolphins fans were able to witness the ground work that would eventually lead the way for the Patriots cheating. An event that probably made Bill Belichick smile.
We of course are talking about the Snow Plow Game.
Don Shula was livid after the game and rightfully so. The Patriots took advantage of having a snow plow on the field regardless of whether the driver was a work release convict. The Dolphins lost that game when they plowed the field giving the Patriots an advantage that wasn't afforded to the Dolphins during the game. The NFL of course, did nothing.
Bill Belichick didn't have anything to do with it but he would carry on the tradition years later. I know, Patriots fans will have a lot to say about this. They will point to the Super Bowl victories, tainted as some of them are, and even some Dolphins fans will roll their eyes and say "get over it". This is all tongue in cheek. Sort of. Yes the Patriots cheated and were caught. It is what it is.
Today, it's just another day where the Dolphins are enjoying their bye week and hoping that the season can shift in their favor to make a late push for the playoffs. The Dolphins are in a good position but the margin for error is incredibly thin.
39 years ago, the Dolphins lost two games in that 1982 season before losing in the Super Bowl in a strike shortened year. The NFL only played only 9 games that year so there is already an asterisk on the season. "Laugh…out…loud".