Miami Dolphins Stephen Ross ready to lose Jim Harbaugh to Vikings?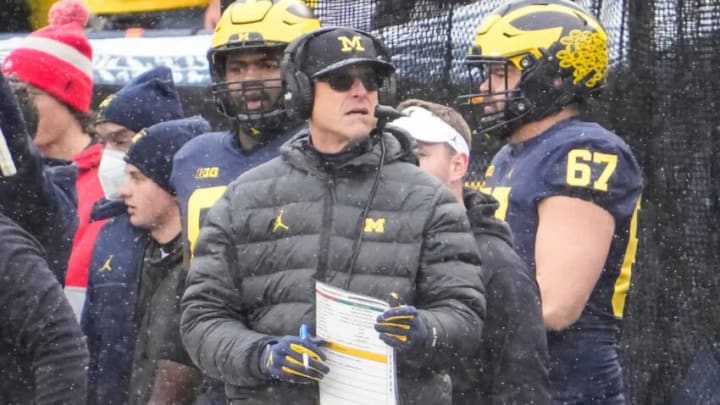 Michigan Wolverines head coach Jim Harbaugh stands on the sideline during the NCAA football game at Michigan Stadium in Ann Arbor on Monday, Nov. 29, 2021.Ohio State Buckeyes At Michigan Wolverines /
Stephen Ross thinks that Jim Harbaugh is a great coach but so far, he hasn't approached him publicly about the Miami Dolphins. Well, not since his mishap with Tony Sparano.
News out of Minnesota today is that the Vikings will interview Harbaugh for their vacant head coaching job. The Vikings recently hired a new general manager who spent time with Harbaugh in San Francisco. So, Stephen Ross, the ball is now in your court.
Ross was adamant that he would not be the "one" who took Harbaugh out of Michigan, his alma mater. But now that Harbaugh is showing interest in returning to the NFL shouldn't Ross be making the necessary phone calls to get him in Miami?
Ross was ready to pay Harbaugh a lot of money to keep him at Michigan but if Harbaugh leaves, Ross will look like a fool and a hypocrite if he decides not to pursue the man he has already previously tried to hire.
The problem is that Ross' "MO" isn't to hire coaches with previous experience at that level. He hired Joe Philbin, Adam Gase, and Brian Flores, all new to that field. Even Harbaugh, when he chased him would have been a first time NFL head coach at that time.
For all the love that Ross has shown Michigan, it's time for him to do the same. It's time for him to tell his team's fans that he wants to win and not just be the owner who found the next "it" guy.
This is not to say that Harbaugh is the answer. He very well may not be. He may not be a long term solution and he may not work out but Ross has spent several years making sure that Harbaugh was happy and satisfied in Michigan while the team he owns continued to struggle.
It seems that the Dolphins are very much interested in Mike McDaniel and maybe Kellen Moore but if Ross really believes that highly in Jim Harbaugh, enough to throw money at him to stay at Michigan and enough to say he wouldn't take him from Michigan, then he needs to hire him to run his football team. This will be his last shot to get him.