Miami Dolphins should still have high expectations in 2022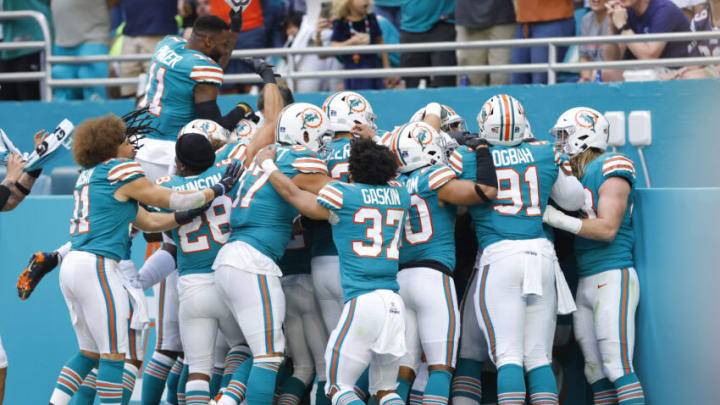 MIAMI GARDENS, FLORIDA - JANUARY 09: Xavien Howard #25 of the Miami Dolphins celebrates an interception return for a touchdown against the New England Patriots during the first quarter at Hard Rock Stadium on January 09, 2022 in Miami Gardens, Florida. (Photo by Michael Reaves/Getty Images) /
The Miami Dolphins are undergoing a number of changes ahead of the 2022 season, but there should still be high expectations for the team's performances.
The 2022 NFL season will see a somewhat 'new-look' Miami Dolphins team take to the field, after an overhaul of the coaching staff sees former San Francisco 49ers offensive co-ordinator Mike McDaniel take the helm.
McDaniel is working closely with general manager Chris Grier to build a team in his image, and while there will likely be some anticipated teething problems, the Dolphins should still expect to be competitive and try hard to reach the playoffs after missing out for the past five seasons.
While the Dolphins were unable to reach their target of making the post-season, the past two seasons under former head coach Brian Flores did see them post winning records – combining for 19-14 in 2020 and 2021.
This was achieved with the majority of the current roster, and with the team's additions through free agency so far there should be a genuine belief that the team can continue to compete and post another winning record.
The Dolphins' offense looks set to be far more balanced than in recent years, with McDaniel's strong belief in the running game seeing the additions of Chase Edmonds, Raheem Mostrert and even Alec Ingold join Myles Gaskin, Salvon Ahmed and Gerrid Doaks in the backfield.
With the running game having more prominence, it will take the load off of third-year quarterback Tua Tagovailoa, who will have more options to put up points and grind out yards against some tough opponents.
The offensive line is still a concern for the team, but there are a number of players in the group that are still young enough to improve and reach the potential seen in them prior to their draft classes, with a new coach potentially helping them to work on their issues.
With the addition of Connor Williams, and the likelihood of more bodies being brought in via the rest of free agency or even the upcoming draft, the Dolphins' unit has the potential to grow – giving Tagovailoa better protection and opening clearer lanes for the slew of backs on the roster.
The Miami Dolphins roster is still flawed, but it equally has room to develop with a fresh approach from McDaniel's staff and further additions that could be made in the coming weeks will only help to build on a team that has already shown flashes of genuine potential.
Having a belief that reaching the post-season is achievable may be alien to many Miami Dolphins fans, but as the team continues to be retooled this is something that should become normal after the initial frustration of missing out on top name free agents eventually passes.