Miami Dolphins big spending in FA is normal, this feels different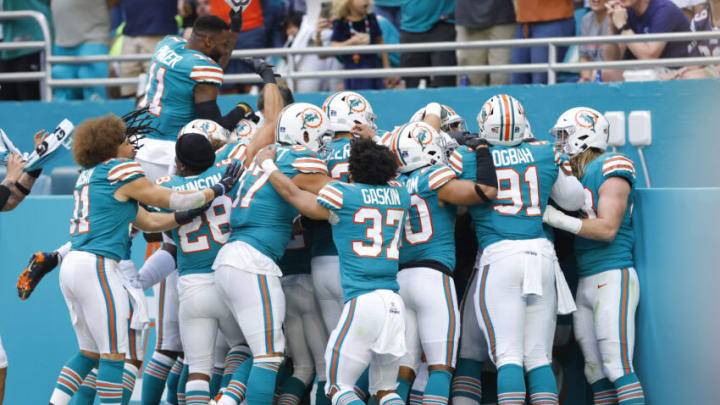 MIAMI GARDENS, FLORIDA - JANUARY 09: Xavien Howard #25 of the Miami Dolphins celebrates an interception return for a touchdown against the New England Patriots during the first quarter at Hard Rock Stadium on January 09, 2022 in Miami Gardens, Florida. (Photo by Michael Reaves/Getty Images) /
The Miami Dolphins have a history of spending money in free agency and at times, a lot of money but this time around, it feels, different.
Historically speaking, the last 20 years have not been overly kind to the Dolphins in free agency. Who can forget the big spending wheeling and dealing Jeff Ireland days? I know, you would rather forget but those were big trades and big free agent deals with nothing to show for them.
When Dennis Hickey took over and eventually Mike Tannebaum and then Grier, the Dolphins have spent a lot of money to bring in players that turned out to be square pegs trying to be fit in the proverbial round hole. They didn't fit the schemes or systems and they didn't fit well in the roster or locker room.
This year, the Dolphins invested more money than my 52 year old mind can remember seeing in one off season.
Emmanuel Ogbah
Mike Gesicki
Connor Williams
Terron Armstead
Tyreek Hill
Cedrick Wilson, Jr.
Chase Edmonds
Raheem Mostert
Xavien Howard
PHILADELPHIA, PA – OCTOBER 03: Tyreek Hill #10 of the Kansas City Chiefs celebrates his touchdown against the Philadelphia Eagles at Lincoln Financial Field on October 3, 2021 in Philadelphia, Pennsylvania. (Photo by Mitchell Leff/Getty Images) /
Free agency isn't quite over yet and the Dolphins could still add more players to their roster. Specifically along the offensive line. So why is this not another off season of the Miami Dolphins being the Miami Dolphins? Why are fans so excited about huge contracts being paid out when history has shown it to be a waste a money? Is Mike McDaniel that polarizing that fans will eat up everything?
Maybe, but when Adam Gase arrived the excitement was through the roof but it wasn't this high. Not even close. This time around, free agency feels different and Chris Grier is more likely to be the reason than McDaniel.
What is clear is that Grier and McDaniel approached this off-season on the same page. In their short time since McDaniel was hired, they were able to get to work and made moves that seem to be part of a bigger plan. An actual system instead of a name that Miami hopes will fit in.
Oct 10, 2021; Tampa, Florida, USA; Miami Dolphins tight end Mike Gesicki (88) runs with the ball against the Tampa Bay Buccaneers during the second half at Raymond James Stadium. Mandatory Credit: Kim Klement-USA TODAY Sports /
That is the difference this year. Miami didn't have to do anything on defense outside of maintaining the unit as a whole and that is what they did. They kept that unit 99% intact losing only one depth player. Offensively they got better and faster.
A lot of what happens in 2022 will ride on the shoulders and play calling of McDaniel. If the system he wants to run is successful, these players will have an incredible impact on the roster and that is why fans are excited. It is the first time since maybe Jimmy Johnson that Miami has an offensive system that could be very good.
Adam Gase made that promise but he never really defined what type of offense he was going to run. Joe Philbin didn't either. Tony Sparano tried but was saddled with the Wild Cat and that wasn't a system.
Whether or not McDaniel, a guy who has never coached as a head coach, can make the Dolphins better will be known later when the season is underway but for now, it seems like the Dolphins had a plan and that plan seems to have worked so far. Free agency was different this time despite the return to high-end spending.
Go with the WRs, LBs, etc. compared to schemed fit