Miami Dolphins: Xavien Howard says "everyone is happy now"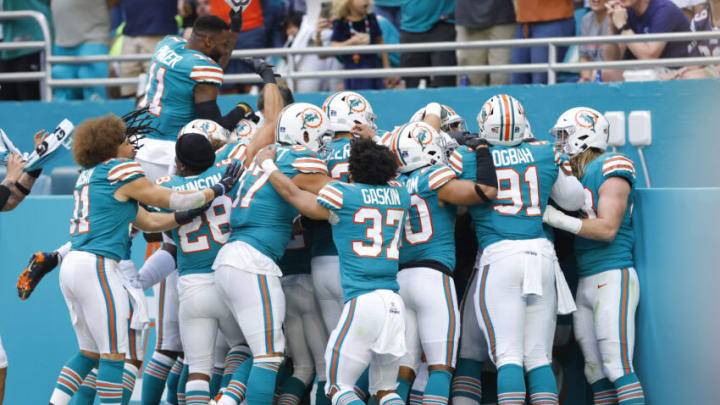 MIAMI GARDENS, FLORIDA - JANUARY 09: Xavien Howard #25 of the Miami Dolphins celebrates an interception return for a touchdown against the New England Patriots during the first quarter at Hard Rock Stadium on January 09, 2022 in Miami Gardens, Florida. (Photo by Michael Reaves/Getty Images) /
Things are different for the Miami Dolphins this year. There is a different vibe that even the fans are experiencing. Now, players are saying the same.
Earlier today we asked the question if the Dolphins fans were putting too many expectations on Mike McDaniel. Now, it seems the players are putting their own expectations on the season and their new head coach.
Change doesn't always breed success nor does it mean immediate failure either. We have known that the last three years under Brian Flores were harder than they were under Adam Gase and especially Joe Philbin. It seems that the winds of change have whipped through Davie once again.
Xavien Howard told the media that "Everyone is happy". He said things are different in Miami and that is always a good thing.
I suppose it doesn't hurt when you get a brand new bit time contract extension either. Howard isn't the only one. Emmanuel Ogbah said that things are different. He is excited for what is coming and what he has sensed around the building in the locker room.
These are changes that seem to be more in line with what McDaniel has experienced in previous stops with other young coaches. It is a new era of NFL coaching where the hard driving disciplinarians may be the old dogs of the past. Brian Flores brought what he knew from Bill Belichick but it didn't work in Miami.
Mike McDaniel wants to bring a different energy and it seems to be working, at least for now. I have always maintained that players emulate the coach that is in charge. Under Joe Philbin, the team was far more relaxed but a relaxed with no real direction. Under Sparano, the team was solid and disciplined but lacked creativity outside of the WC.
Adam Gase brought attitude and ego but it was only his own that was allowed to shine through and the team never got behind that. Flores was discipline and the team was strong because of it but failed because Flores wasn't able to look beyond his short comings on offense and Miami's offensive unit emulated the bad coaches they were under.
What will we see in McDaniels team? It seems we will see a team that is already gravitating towards him. Already lining up to hit the wall for him. That is a good sign and players, hopefully, won't want to let him down.
Regardless of the reason, it is refreshing to see that the players are excited, more so than in year's past. It will make for a much better unified locker room and if they can turn that into wins, then maybe, the expectations we asked about earlier were warranted after all.