Ryan Fitzpatrick was good for the NFL but for the Miami Dolphins?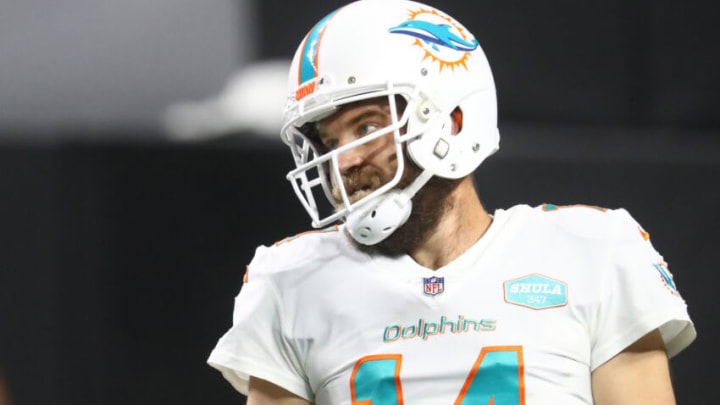 Ryan Fitzpatrick Mandatory Credit: Mark J. Rebilas-USA TODAY Sports /
Ryan Fitzpatrick is calling it a career after 17 seasons in the NFL and he was great for the league but not so much for the Miami Dolphins.
I know this is not a popular opinion. Miami Dolphins fans fell in love with the bearded wonder immediately after he joined the Dolphins organization in 2019. Rightfully so I will add. Fitzpatrick was fun to watch and he gave everything he had no matter where he was playing or against who.
When you think of Fitzpatrick's long NFL career, a defining image always seems to come to mind, his play against the Raiders in 2020.
Ryan Fitzpatrick (Photo by Harry How/Getty Images) /
Fitzpatrick embodied what it was like to be an old-school football player. A guy that threw caution and his body into the wind. They stopped making QBs like that a long time ago.
In his 17 seasons, he never played for the same team more than four seasons in a row, those came with the Buffalo Bills from 2009 to 2012. It was that connection to then-coach Chan Gailey that would inevitably bring him to the Miami Dolphins.
The arrival of Fitzpatrick would, some would say, doom the Dolphins' chances of making a legitimate run at Joe Burrow. Fitzpatrick would start 13 games for the Dolphins in 2019, a season the team was prepared to lose as they gutted the roster and rebuilt it.
2019 was supposed to be Josh Rosen's season and Miami very well may have landed the top draft pick had it not been for Brian Flores' determination to play Fitzpatrick, who was supposed to be the team's backup but let's face it, Josh Rosen was really bad.
Fitzpatrick couldn't lead Miami to the playoffs but he was good enough to win five games and effectively keep Miami out of the Joe Burrow running. In 2020, it was a rinse and repeat with Flores and new QB Tua Tagovailoa.
Flores bounced between the two QBs all season with Fitzpatrick starting four games that season and two other appearances after Flores pulled Tua in the second half. Fitzpatrick entered the season expecting to return as the starter and that led to some speculated animosity and an inevitable exit at the end of the season.
Surprisingly, Fitzpatrick has never played in a post-season game. 17 years without touching the field in the playoffs is almost surreal and unbelievable. In 2015 he came close, leading the New York Jets to a 10-win season but missed out on the playoffs due to a tie-breaking loss to the Steelers.
That 2015 was only one of three seasons that Fitzpatrick posted a winning record above .500.  He finished one season 2-1 and in 2020 finished 4-3 with the Dolphins.
His final year in the NFL lasted one game. Fitzpatrick was hurt in his debut with Washington.
Ryan Fitzpatrick Mandatory Credit: Jasen Vinlove-USA TODAY Sports /
The Dolphins would have probably been better off without Fitzpatrick and the history of the franchise could have looked much different if Miami rolled with Josh Rosen in 2019 and then transitioned to a different QB in 2020. Maybe that QB would still be Tua Tagovailoa or maybe it wouldn't have been.
NFL.com ranks the Dolphins as Fitzpatrick's fourth-best stop of his nine teams. They too cite the 2020 controversy surrounding his benching for Tua.
For the debate on his impact on Miami, he became a player that fans needed at the right time. A glowing light of enthusiasm and he became a favorite of many fans regardless of what he actually could do on the field, consistently. His retirement wasn't unexpected given the number of years that he has put into his career but many NFL fans, they have never known a league without Ryan Fitzpatrick playing somewhere in the NFL.
I suppose if there could be a perfect ending, he will find a job in a broadcast booth. For some reason, I think he could really bring a colorful commentary to NFL games and besides, he played for what seems like half of the teams in the league.
Whether you believe that Miami would have been better off without him or better with him, there is no denying that he brought a youthful exuberance to the franchise and was incredibly fun to watch, even when he was bad.