3 Miami Dolphins offensive line camp battles that need to be watched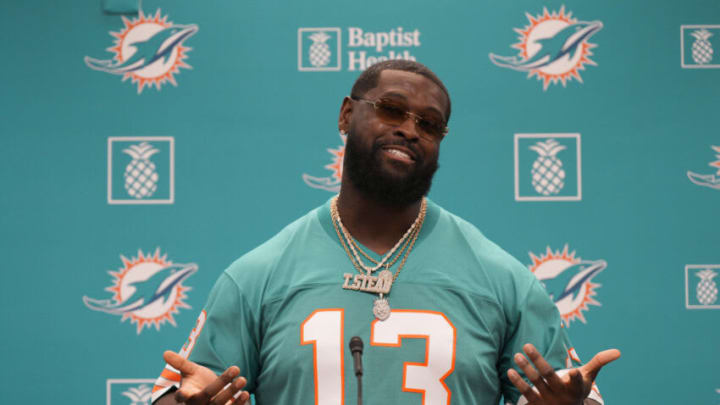 Terron Armstead s (Photo by Mark Brown/Getty Images) /
Liam Eichenberg. (Photo by Michael Reaves/Getty Images) /
Austin Jackson and Liam Eichenberg look to anchor the important right side but can either of them lift the Miami Dolphins?
Liam Eichenberg was a player Miami had to have. They traded up to get him in the 2nd round of the 2021 draft. Austin Jackson is a former first-round pick that hasn't lived up to the projection. Now, the two could be competing for the starting right tackle job.
Jackson played well at guard, or at least better, last year. Eichenberg struggled with his consistency, footwork, hand placement, and reads. This year both have a better coach in their corner and both will try to block Tua Tagovailoa's blindside.
Does one have an upper hand? No, both have played tackle, both have played guard, and both have done better at guard than at tackle. Still, the Dolphins think they can get more out of each of them and the loser may be the one who actually wins, shifting back inside to play guard where each, again, have performed better.
This competition may not just end between the two of them, however. There has been talk in around local media that Robert Hunt might be shifted outside to play some right tackle in camp. Is this a case of seeing what he can do or a case of less faith in the other two? That is what we will find out in camp.