AFC East: Bills can't handle the heat or snow, moves game to Detroit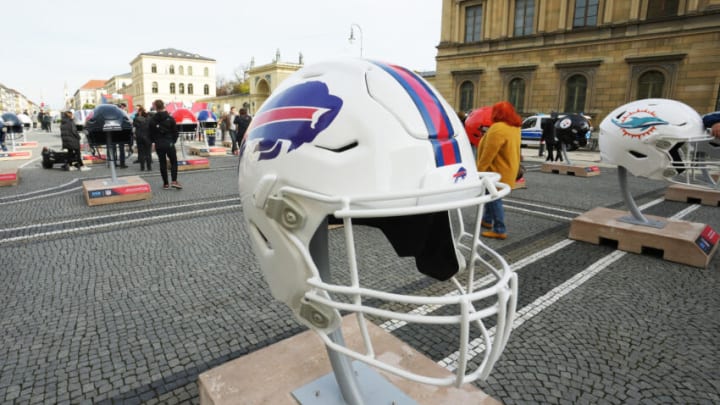 Nov 11, 2022; Munich, Germany; Large helmets of the Buffalo Bills and Miami Dolphins at fan activation event at Odeonsplatz. Mandatory Credit: Kirby Lee-USA TODAY Sports /
The Miami Dolphins AFC East division rival Buffalo Bills need to be an indoor team because they can't handle the elements. First it was the sun was too hot and now there is too much snow. The NFL announced that the game between the Bills and Browns is being moved.
On Sunday, the Bills will no longer host the Browns, the Lions will, in Detroit. I reached out to the Bills to find out if they have requested a certain indoor temperature and asked if anything closelysresembling sunshine was being removed from the stadium. They didn't responds
Currently, Ford Field in Detroit is now being rushed to get the stadium ready for a game. There was an indoor carnival on the field and is now being broken down to get the field put back in place.
Scheduled for 1:00 in the afternoon, I'm surprised the Bills didn't ask for a later start.
The game change will make life a lot easier for the Bills who probably would have struggled in a game that might have been reduced to running the football…the Bills couldn't beat the Patriots in a ground war last year.
Buffalo will also get the benefit of not having to travel next week as they play in Detroit for Thanksgiving on Thursday. While we all understand that the idea behind the move is for safety reasons, this move benefits Buffalo more than it does the Browns but the Browns were not going to be favored in this game either way.
The Bills are currently in third place within the AFC East but that is, for now, because Miami has yet to be on their bye week, which is this weekend. A win against the Browns will move the Billss into a tie with Miami.