Mount Rushmore of most hated players in Miami Dolphins history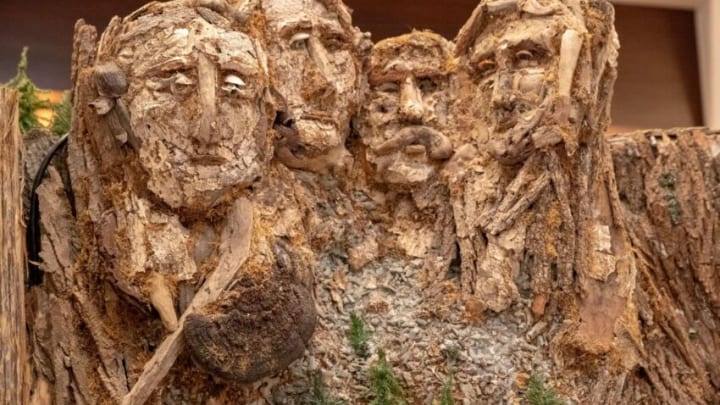 A Mt. Rushmore, made of wood and stone flake, at Jingle Rails, a G-scale model train exhibit at the Eiteljorg Museum, Indianapolis, Sunday, Dec. 23, 2018. The show, featuring American and Indianapolis landmarks, plus a trip down historic Route 66, will be on display through January 21.Jingle Rails Showcases Model Trains /
The Miami Dolphins long storied history has sparked many debates over who would be on the Mount Rushmore of legends, but what about the worst?
Dan Marino, Don Shula, and Larry Csonka are the immediate three when you think about a Dolphins Mt. Rushmore. Jason Taylor comes next and if you add a 5th it's typically debated by the fans.
Making a case for a Dolphins "Rushmore" can be pretty boring unless you rule out Shula, Taylor, Marino, and Csonka but then you replace them with names like Stephenson, Little, Buoniconti, and so on. Instead, who were the most hated players in franchise history that would make a most hated Mt. Rushmore?
It isn't even nice to think it out loud, honestly, but here we go nonetheless.
MIAMI, FL – SEPTEMBER 26: Jason Allen (Photo by Joel Auerbach/Getty Images) /
Jason Allen was an incredible mistake that made the Miami Dolphins waste a draft pick and money.
In 2006, Nick Saban knew everything, except how the NFL actually plays football. He set his sights on Tennessee defensive back Jason Allen who he had tried unsuccessfully to recruit to LSU.  He made him the 15th overall pick in that season's draft. Allen was a waste and quickly caught the ire of the Dolphins fanbase.
Unlike Ricky Williams who fans love to hate and debate, there is little love thrown at Allen who started off his NFL career holding out for more money.
Allen missed the first ten days of training camp, signed with almost $9 million in guaranteed money, and got a six-year rookie contract.
Allen would start, none of the games he played in his rookie year. He would finish the season with one interception and fans were already done with him.
For the better part of his first four seasons, Allen was supposed to take big steps each year and unfortunately didn't take any small ones. He started nine games in his 2nd season, two in his third, and one in his fourth despite playing in almost all of those games.
Allen would manage to coast through seven NFL seasons without ever coming close to being good.