Mount Rushmore of most hated players in Miami Dolphins history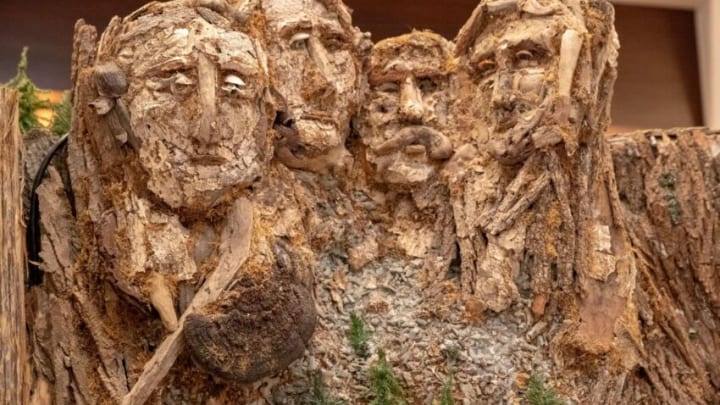 A Mt. Rushmore, made of wood and stone flake, at Jingle Rails, a G-scale model train exhibit at the Eiteljorg Museum, Indianapolis, Sunday, Dec. 23, 2018. The show, featuring American and Indianapolis landmarks, plus a trip down historic Route 66, will be on display through January 21.Jingle Rails Showcases Model Trains /
Nov. 23, 2006; Detroit, MI, USA; Miami Dolphins tight end (81) Randy McMichael is hit by Detroit Lions defensive back (21) Jamar Fletcher at Ford Field in Detroit, Michigan. Mandatory Credit: Mark J. Rebilas-USA TODAY Sports © 2006 Mark J. Rebilas /
Eddie "freaking" Moore still stands as one of the worst draft picks in Miami Dolphins history and that says a lot all these years later.
Wanting to put Dave Wannstedt on a bad Mt. Rushmore is because of players like Eddie Moore. The Dolphins entered the 2004 NFL Draft with offensive needs but Wannstedt, who had a top-five defensive unit, decided he needed another linebacker instead.
Miami had traded their 2003 first-round pick to the Saints as part of the Ricky Williams deal so Miami entered round two with needs at receiver among other positions. What they didn't need was a linebacker.
Moore would be taken with the Dolphins' first pick in 2003. What Miami should have done was draft Anquan Boldin who would be taken five picks later. Miami needed a WR.
We could probably split the faces on this Rushmore carving and give the other half to another Wannstedt original…Jamar Fletcher. Fletcher was taken in round one of the 2001 draft at 26th overall. Fletcher had a better career than Moore who lasted only two seasons in the NFL. But what makes fans hate Fletcher is that again, we didn't need a CB and Drew Brees was passed over in favor of a never-would-be-Hall-of-Famer.
Fletcher doesn't deserve to be on the mountain because he at least lasted nearly eight seasons and if hadn't been for the pass on Drew Brees, Fletcher may have gotten a pass by Dolphins fans…but not Moore.