Mount Rushmore of most hated players in Miami Dolphins history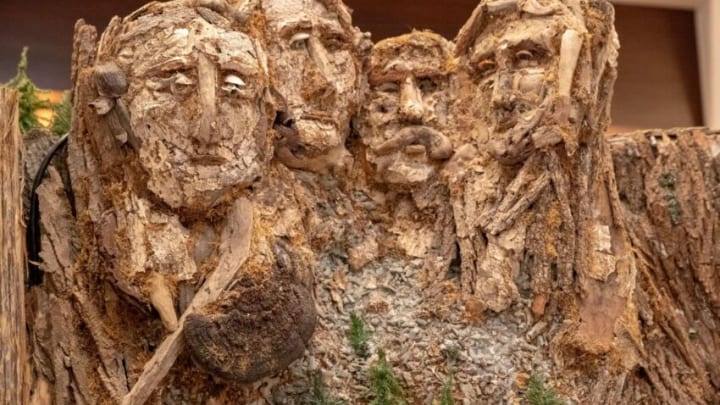 A Mt. Rushmore, made of wood and stone flake, at Jingle Rails, a G-scale model train exhibit at the Eiteljorg Museum, Indianapolis, Sunday, Dec. 23, 2018. The show, featuring American and Indianapolis landmarks, plus a trip down historic Route 66, will be on display through January 21.Jingle Rails Showcases Model Trains /
Aug 4, 2013; Canton, OH, USA; Bill Parcells at the 2013 Enshrinees Gameday Roundtable at the Canton Memorial Civic Center. Mandatory Credit: Kirby Lee-USA TODAY Sports /
Bill Parcells was supposed to turn the Miami Dolphins franchise around but instead, he simply drove it further into the dirt.
All these years later and honestly, I still don't know if Bill Parcells actually wanted to be with the Miami Dolphins, wanted to turn the franchise around, or just take the money to pad his pockets.
Hired by Wayne Huizenga after the failure of Cam Cameron, Parcells was supposed to come in, clean house, and build a championship-caliber football team. Instead, he built nothing but discord, and in-fighting, and basically left the Dolphins with a heap of cap trouble, bad personnel, and executive staff that wasn't ready to be in charge.
Parcells left Miami with Jeff Ireland whose tenure with the Dolphins spiraled into major infighting within the organization and a struggle for internal power. His choices in players included Pat White, Chad Henne, and even Jake Long over a much more need at quarterback. Then, Wayne Huizenga put the team up for sale.
Stephen Ross tried to keep him happy, guaranteed his contract, and still allowed him to leave if he wanted, and he did. After taking the owner's money, Parcells took his ego and inability to run a franchise and walked, but not before sticking his finger into the organization's structure and stirring the pot. Turns out, after all the hype, Bill Parcells was simply spoiled tuna casserole.