Mount Rushmore of most hated players in Miami Dolphins history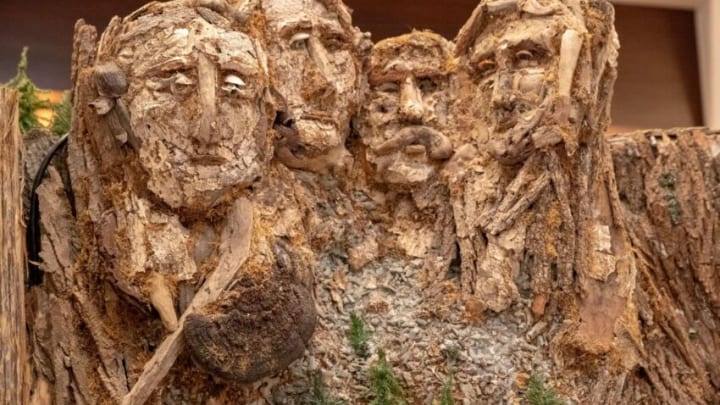 A Mt. Rushmore, made of wood and stone flake, at Jingle Rails, a G-scale model train exhibit at the Eiteljorg Museum, Indianapolis, Sunday, Dec. 23, 2018. The show, featuring American and Indianapolis landmarks, plus a trip down historic Route 66, will be on display through January 21.Jingle Rails Showcases Model Trains /
Sep 7, 2006; Pittsburgh, PA, USA; Miami Dolphins quarterback (8) Daunte Culpepper calls a time out Mandatory Credit: Jason Bridge-USA TODAY Sports /
Daunte Culpepper should have his own mountain let alone a spot on the most hated Miami Dolphins Mount Rushmore.
Culpepper was an incredibly talented and successful quarterback in Minnesota because he had one of the NFL's best WRs, Randy Moss. After a knee injury ended his 2005 season, he was put on the trade block by the Vikings and the Dolphins jumped into the pool.
Nick Saban would famously take the advice of his medical team, or at the very least try and convince the fans that he really wanted Brees all along. Instead, he traded a 2nd round draft pick to a guy that would play a whopping four games and throw an amazing 134 passes in his one season.
Culpepper was quickly despised by the Dolphins fan base and in 2007 when he returned to Hard Rock Stadium as the Raiders starting quarterback, he made it known that he was better than what Cam Cameron had at quarterback. His attitude in his return didn't earn him any sympathy and beating Miami made fans hate him even more.
Cam Cameron was at least smart enough to get rid of him during the off-season after taking over for Saban. Culpepper asked for his release shortly after Miami traded for Trent Green and after seeking involvement from the Players Association, GM Randy Mueller and Cameron granted his wish.