The best free agent pick up for the Miami Dolphins in 2022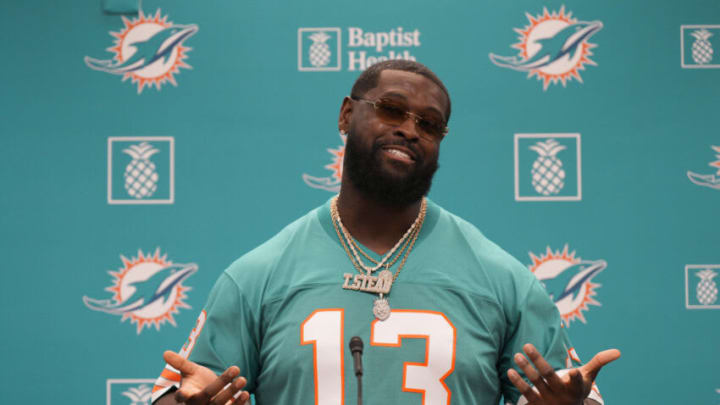 Terron Armstead s (Photo by Mark Brown/Getty Images) /
Chris Grier knew he needed to make some drastic changes heading into the 2022 season and he did exactly that. The Miami Dolphins had some of their free agent signings in a long time so there is a lot to unpack from it.
The Dolphins were able to re-sign some players to start it all off including Brennan Scarlett, Alec Ingold, Durham Smythe, Elandon Roberts, Duke Riley, Preston Williams, and Emmanuel Ogbah.
But the real highlights came from the new additions that general manager Chris Grier was able to bring in. It was also made very clear that the main focus would be upgrading the offense.
The most glaring issue for the Dolphins has been the offensive line problems for a number of seasons now. This was addressed in a major way with the best free agent signing of the offseason in Terron Armstead. The All-Pro Left Tackle helped make a major difference in why Tua Tagovailoa improved so much in year three.
Connor Williams was another offensive linemen that the Dolphins signed in 2022 and the guard also was another tremendous upgrade made by Grier. The offensive line, when healthy, in 2022 was one of the best offensive lines seen in years.
Connor Williams (Photo Creds to the Palm Beach Post) /
Miami has had a lack of run game in the last few seasons having to rely on Myles Gaskin and Salvon Ahmed. So signing Raheem Mostert from San Francisco was huge for the Dolphins. It would also help pair up Mostert again with Mike McDaniel who was his Offensive Coordinator while with the 49ers.
Miami Dolphins running back Raheem Mostert (Mandatory Credit: Jasen Vinlove-USA TODAY Sports) /
The Dolphins would also sign Chase Edmonds but his stint here would not last long as they would include Edmonds for a future trade to get Bradley Chubb from the Denver Broncos.
After losing Jacoby Brissett to the Cleveland Browns, the Dolphins needed to find a new backup for Tua. Grier would go out and sign Teddy Bridgewater to a one-year deal. It seemed like a better signing at first than it would end up being. But you can not blame Bridgewater for the injuries he had to deal with off and on throughout the season.
One last minor signing that the Dolphins made in 2022 was for Cedric Wilson. It looked like a more flashy signing when it was originally made. But it was not until weeks later that the Dolphins traded for Tyreek Hill and Wilson pretty much became an afterthought.
Overall, thanks to the signing of Terron Armstead, the Dolphins now have someone to always hold it down for Tua. With not as much money to spend with in 2023, do not expect as many flashy moves this offseason.