NFL quarterback ranking: Where Tua Tagovailoa really ranks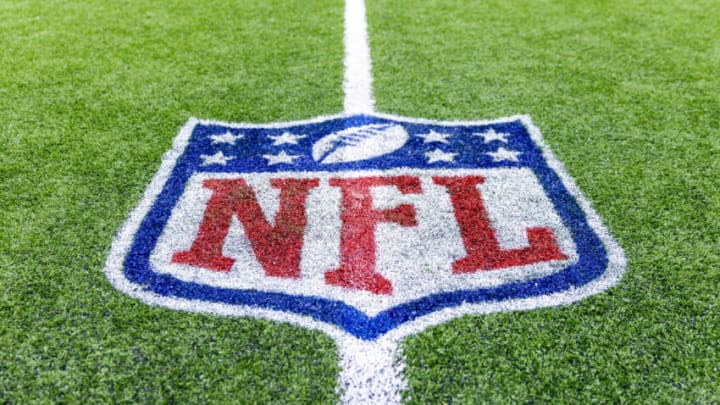 Jan 8, 2023; New Orleans, Louisiana, USA; Detailed view of the NFL shield logo on the field after the game between the New Orleans Saints and the Carolina Panthers at Caesars Superdome. Mandatory Credit: Stephen Lew-USA TODAY Sports /
The NFL is full of top ranked quarterbacks and for the Miami Dolphins, Tua Tagovailoa will often be ranked too high or too low against other NFL QBs. Here is our pre-draft NFL quarterback ranking.
Nothing screams bias like ranking NFL quarterbacks and when you try to do it fairly, you still manage to make some fanbase incredibly ticked off and sometimes it isn't just the other fansbases. Sometimes you irritate your own fanbase as well.
Ranking quarterbacks can be as easy as looking at them from a statistical standpoint and putting them in order but is that fair to a quarterback who is better than another but in the wrong system? No, not really. Only elite QBs can take a roster and carry them on their arm, back, and shoulders…and sometimes legs.
This ranking is taking an all around approach. What the player means to the team, statistics, ability, proven success, injury history, and visible talent. We will start in reverse order but first, we need to look at few teams that really won't have a quarterback listed in this ranking.
At the bottom of our top 32 NFL QBs, we have the Washington Commanders, Carolina Panthers, and, Indianapolis Colts
All three teams are expected to draft a quarterback early in this year's draft. The Panthers have the first overall pick and after trading up, the only question is which QB will they draft.
The unranked
Washington Commanders: They need to draft a quarterback but they draft at pick 16 and if a top prospect doesn't fall, they will have to choose between Jacoby Brissett, Jake Fromm, and Sam Howell.
Carolina Panthers – Andy Dalton is on the roster but again, the Panthers will draft number one overall. That rookie should start from day one.
Indianapolis Colts – With the 4th pick in the draft, the Colts should get their starting QB.