The Miami Dolphins co-offensive coordinator experiment needs to end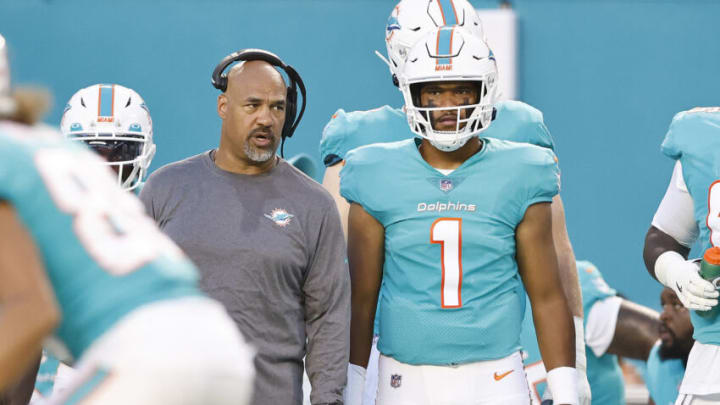 MIAMI GARDENS, FLORIDA - AUGUST 21: Co-offensive coordinator Eric Studesville and Tua Tagovailoa #1 of the Miami Dolphins look on during a preseason game against the Atlanta Falcons at Hard Rock Stadium on August 21, 2021 in Miami Gardens, Florida. (Photo by Michael Reaves/Getty Images) /
As it turns out, two heads aren't better than one. Back in February, the Miami Dolphins announced that they were going with an unprecedented arrangement for the offensive coordinator position. They promoted both George Godsey and Eric Studesville to co-offensive coordinators. Many in the Dolphins community were left scratching their heads and wondering who the actual play-caller was going to be.
The situation has only become murkier as the season progresses. After the very first preseason game quarterback Tua Tagovailoa said quarterbacks coach Charlie Frye was the one giving him plays, not either of the two offensive coordinators. When asked who was really calling the plays, Flores was asked if he would reveal who was calling the plays on offense and he made a joke, saying "No, I don't want to reveal. It could be six people." (via the Miami Dolphins released transcripts)
This is all very cute and was sort of exciting back in the offseason, but now that we are four games into the season it's pretty easy to see that whatever system the Dolphins are running is not working. That's even putting it nicely. According to Pro Football Reference, the Dolphins' offense ranks 31st in points scored, 31st in yards, 30th in first downs, 30th in passing touchdowns, 28th in rushing yards, and 31st in average points scored per drive. I could go on with the dismal stats, but you get the idea. The offense is broken.
This whole offensive coordinator by committee idea gives me a headache when I think about how it might work practically. The offense (typically) has 40 seconds on the play clock to choose a play and communicate it with the team. The quarterback's headset turns off with 15 seconds left. That leaves 25 seconds for whoever is deciding what the play is to get it through all of the necessary channels and to the quarterback. It's no wonder the offense looks lost out there.
The other side-effect of this arrangement is that there isn't anyone being held accountable for the terrible offense. We don't know who is responsible for the offense, which as fans makes us feel like the team is hiding something from us. I'm not saying we need someone to aim the pitchforks at, but we should at least be aware of who is calling the shots on offense as 31 other franchise's fans are.
The co-offensive coordinator experiment seems to be going exactly as well as Jim and Michael's co-manager experiment in The Office went. The offense is broken. It's time for a change and it's time for some accountability.