Miami Dolphins hype train is more of a bullet train on steroids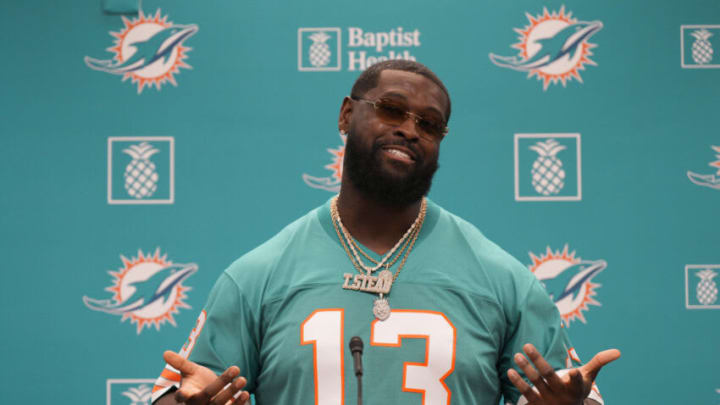 Terron Armstead s (Photo by Mark Brown/Getty Images) /
The Miami Dolphins fan base is speeding down the track faster than Tyreek Hill and Jaylen Waddle cutting through the Jets defense.
If there is one thing you can say about football fans, Miami Dolphins fans more specifically, is they are never happy until they are and even then, it only shows the impatience and highlights more of what fans really don't know.
Take the fact that through the first week of free agency the Dolphins managed to add most of their defensive impending free agents, Emmanuel Ogbah, Mike Gesicki, Cedrick Wilson, Chase Edmonds, Raheem Moestert, and a few other minor depth pieces. Suddenly the $75 million they entered FA with dwindled to about $20.
Fans were screaming for the head of Chris Grier. They were putting the Dolphins 2022 season out to pasture without a single game being played and Mike McDaniel was going to be a one and done HC. Even here we asked if the Dolphins were doing enough. While the rest of the NFL made big moves that strengthened their playoff positioning, the Dolphins, well, they didn't really do too much.
Then Miami signed Connor Williams and fans were breathing a little bit better still hoping for a trade or a free agent signing of La'el Collins. That didn't happen. What did happen took the Dolphins fanbase from screaming for Grier's job to wishing him a happy birthday!
The Dolphins signed Terron Armstead to anchor the left side of the line. They swung one of the biggest trades in team history by sending 5 draft picks to K.C. for one of the best receivers in the NFL and reports continue to circulate that they are not done yet.
Now, the Dolphins are a team that many believe could challenge for a playoff spot despite the media's relentless assault on Tua Tagovailoa that has only gotten worse since the Hill signing.
So are the Dolphins legit playoff contenders? Can they overtake the Bills in the AFC East? It's March. There is a lot of off-season left. There are mini camps, OTAs, and training camp. Then they play football but the Dolphins hype train hasn't slowed down over the last few days. It simply continues to pick up speed.
Miami is going to be different this year but will that difference translate to immediate success? That is up to the players and Mike McDaniel but there are better pieces on the team today than there was a week ago and finally, the fans are pretty much united in their support of what the team has done but they have been reduced to little Oliver asking "can I have some more please."