Dolphins Training Camp: Tannehill, Offense Continues to Struggle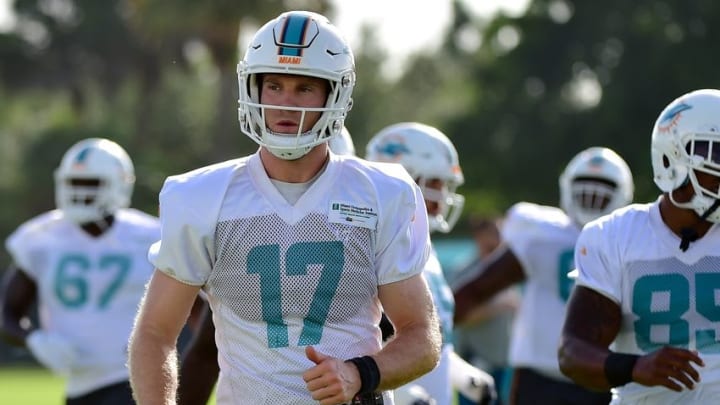 Aug 4, 2016; Miami Gardens, FL, USA; Miami Dolphins quarterback Ryan Tannehill (17) warms up practice drills at Baptist Health Training Facility. Mandatory Credit: Steve Mitchell-USA TODAY Sports /
This is a make-or-break year for Ryan Tannehill, especially now with Adam Gase at his disposal. If the offense continues to struggle, the excuses will soon run out for the fifth-year quarterback.
Once Adam Gase was announced as the new head coach of the Miami Dolphins, fans of South Florida's NFL franchise were thrilled. Finally, a quarterback guru was going to take their golden boy Ryan Tannehill under his wing and push the fifth-year starter into the positive direction his career desperately needed.
More from Dolphins News
Early into training camp, things were positive. Tannehill seemed calm, cool, and collected. He relished his new freedom of being able to audible more at the line of scrimmage and have more control of the offense. Even Gase's former player, future Hall of Fame quarterback Peyton Manning, made an appearance at training camp. Manning, along with Dolphins great Dan Marino, were seen at Dolphins' practice discussing the offense. More importantly, Manning later sat in on a film session and allowed Tannehill to pick his brain about Gase's offense. Things were most certainly on the up and up.
Saturday evening, that all changed. The Dolphins held an intra-squad scrimmage at their training facility in Davie, FL. Unfortunately, because of lightning in the area, the few hundred fans that were in attendance were sent home as the Dolphins moved the scrimmage into their indoor practice bubble, which is closed off to the public.
Relying on the updates of media members watching the scrimmage, Dolphins' fans were salivating at the chance to find out how well Ryan Tannehill played during the scrimmage. However, once the updates came in and the stat sheet was read, you could hear every Dolphins' fans across the world retching, pitifully trying to get the bad taste out of their mouths.
The Dolphins' offense, as a whole, was anemic. They managed to get only one first down in eight series. They surrendered five sacks, and managed only 15 rushing yards on 10 attempts.
More disheartening, the passing game showed no signs of life. Ryan Tannehill, going against the second-team defense, completed four of six passes for a measly 22 yards, averaging less than four yards per completion. The other quarterbacks who saw time, Matt Moore (1-4 for six yards) and Brandon Doughty (one interception), were just as bad and could never get into a rhythm.
"The defense played really well today and they deserve all the credit," said center Mike Pouncey, per Chris Perkins of The Sun Sentinel. "Obviously today we didn't come out with the right mindset to compete against these guys and it showed."
After the scrimmage, Adam Gase was irate and didn't hesitate to make his feelings known on his offense's performance. "It irritates me," Gase said, per Adam Beasley of The Miami Herald. "You get to practice one time a day, and you have a limited amount of practices, and how many times are you going to be in pads? I think it's like 22 for the whole year. To not take advantage of that, it's bothersome."
Following their scrimmage, the team was given Sunday off. They resumed practice this morning and all eyes were zoned in on the struggling offense. Once again, they disappointed. The defense was, once more, dominant today in practice. The Dolphins' offense had a hard time developing plays and creating running lanes. With the offensive line continuing to struggle, Tannehill continues to settle for short passes:
Sun Sentinel's Omar Kelly even described the offense as "historically bad," Monday morning.
Right now, things don't look good. Sure, developing a new offense will take some time, but Tannehill is fresh out of excuses. I, more than anyone, would like to see the Dolphins turn things around before their first preseason game Friday night against the New York Giants at MetLife Stadium. If the last couple of days are any indication, however, fans are unlikely to recover from their indigestion anytime soon.