Miami Dolphins defensive recap Vs Steelers week six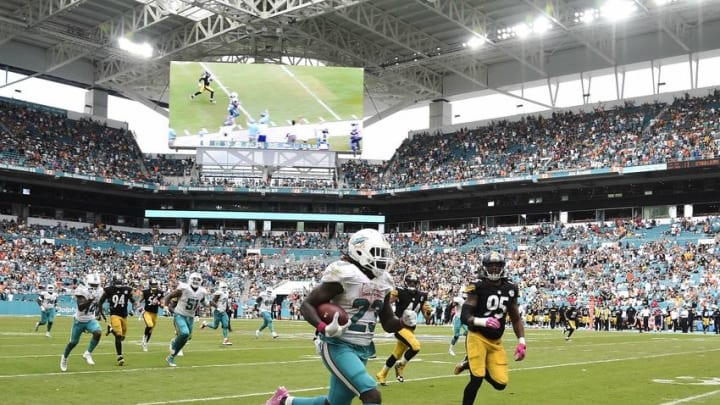 Oct 16, 2016; Miami Gardens, FL, USA; Miami Dolphins running back Jay Ajayi (23) runs past Pittsburgh Steelers outside linebacker Jarvis Jones (95) for a touchdown during the second half at Hard Rock Stadium. The Dolphins won 30-15. Mandatory Credit: Steve Mitchell-USA TODAY Sports /
The Miami Dolphins defense had a strong showing overall in this victory over the Steelers. There was enough pressure on QB Ben Roethlisberger, the running game was held down as was coverage on the receivers.
More from Dolphins News
The duo of Andre Branch and Cameron Wake were effective in rushing the passer getting a few sacks. Byron Maxwell had a strong bounce back game covering Antonio Brown for the most part with four passes defended and even getting four solo tackles (one rushing) something that had been lacking in past games.
The longest run of the game was from WR Darrius Heyward-Bey on an end-around for 60 yards. Le'Veon Bell's longest run was for 13 yards. The Steelers total rushing yards were 129 yards.
Profootballfocus gave praise to Byron Maxwell naming him the tenth best player of the week.
"Not far removed from being benched earlier this season, Maxwell spent much of Miami's win over Pittsburgh covering Steelers star WR Antonio Brown and limiting him to just three catches for 23 yards on five targets, breaking up two of the balls thrown his way. He also notched two more pass breakups on balls intended for Darrius Heyward-Bey, and for the game he allowed a passer rating of just 58.9 when targeted, surrendering a total of 29 yards. That's a bounce-back performance."
Of the eleven drives the Steelers had five ended with punts, two were the end of the half and end of game, two were interceptions from both safeties Jones and Abdul-Quddus and two touchdowns one early and one late in the game.
Donald Butler leaned into Ben Roethlisberger taking him to the turf to contain him after he threw an interception. The result was a knee injury to Roethlisberger who would only go out of the game for a series at most, approximately five plays.
https://twitter.com/NFL/status/787707392406409216
The biggest take away as in being taken away was the loss of Reshad Jones who most likely received an injury on the play above when he had an odd angle putting his shoulder into WR Darrius Heyward-Bey trying to stop him on this play where he scored early in the game.
Team Stats
PIT                                 MIA
First Downs                                                   15                                 24
Rush-Yds-TDs                                  16-128-1                    36-222-3
Cmp-Att-Yd-TD-INT             19-35-189-1-2        24-32-252-0-0
Sacked-Yards                                                2-20                               0-0
Net Pass Yards                                                169                              252
Total Yards                                                        297                              474
Fumbles-Lost                                                  0-0                               0-0
Turnovers                                                               2                                    0
Penalties-Yards                                               6-65                            8-95
Third Down Conv.                                              3-11                           7-14
Fourth Down Conv.                                              0-1                             0-0
Time of Possession                                          23:30                          36:30
Game notes
• Andre Branch and Cameron Wake make for a nice pass rushing duo which is nice to have however a three-pronged attack would be even better if they can find an accomplice
• Dolphins' Walt Aikens was benched this game because he was late for a meeting.
• Byron Maxwell has made the best of his demotion and benching by playing to a high degree.
Final notes
Every game in which the Miami Dolphins defense has shown up and stopped or slowed the run there have been caveats. The main ones are the opposing QB has been hurt, hampered and not perform as expected followed by the new DC Vance Joseph having familiarity with the teams played from past employments. So the real litmus test is yet to come.