Miami Dolphins offensive recap Vs Steelers week six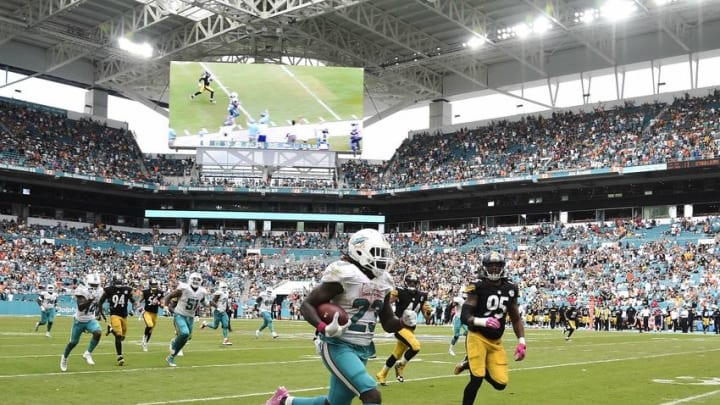 Oct 16, 2016; Miami Gardens, FL, USA; Miami Dolphins running back Jay Ajayi (23) runs past Pittsburgh Steelers outside linebacker Jarvis Jones (95) for a touchdown during the second half at Hard Rock Stadium. The Dolphins won 30-15. Mandatory Credit: Steve Mitchell-USA TODAY Sports /
Continuity was on full display this game. It was like a check list of things that had been missing have now shown up out of the blue unexpectedly in the 30 to 15 Miami Dolphins victory over the Steelers.
More from Dolphins News
The main thing that showed up for the Miami Dolphins on the field was the starting front five linemen for the first time this season. All things flow through them, a good running game, time to pass, and play action that is not a hollow threat from not having an effective running game. They actually ran the ball eating the time off the clock late in the game with a lead, as well as getting short yardage first downs running, something not seen by this team in a very long time.
During the first drive of the game, plays were faster and more effective while driving toward the end zone. The pass play to DeVante Parker in the end zone was from under center, the ball hit Parker in the hands a bit high, he then bobbled it as a defender makes contact, missed opportunity for a TD. They ended up having to settle for a FG.
On a later drive the same thing happened on a great play were TE Dominique Jones caught a pass in the back of the end zone however was called back from an illegal formation call. TE Dion Sims had a pass to him in the end zone also but it was a tough ball to corral as he was falling and it had a lot of zip on it. They had to settle for a FG yet again.
Damien Williams ran it in for a TD with about 29 seconds left in the first half. On this play you can see Steelers Lawrence Timmons lose his lunch. Previously right after a long strike plays the Dolphins went into uptempo mode, these plays must have gotten to Timmons along with the heat.
https://twitter.com/NFLUK/status/788437563891744768
Jay Ajayi had 204 yards running however 62 yards came on a late seal the win run with one minute left in the game. The last time the Dolphins had a 200 yard rusher was Reggie Bush with 203 yards on Dec. 18, 2011 at the Buffalo Bills. The Steelers had not allowed a 200 yard rusher since 2000.
Ryan Tannehill calls Dion Sims a secret weapon. The (now) 2nd string TE  Dominique Jones can be one as well, he is bigger than listed and that was a great catch for the TD called back from him not being correctly lined up. Kudos to Gase for playing him as much as he did this game with just two less snaps than Grey had.
Pressure drop is a bad thing in hurricane season but good for Ryan Tannehill as it gives him more time to set up and throw as well as get to more progressions. There was one play he rolled out right had Landry open but waited on a second progression to get open for even more yards.
Team Stats
PIT                                             MIA
First Downs                                  15                                                  24
Rush-Yds-TDs                 16-128-1                                    36-222-3
Cmp-Att-Yd-TD-INT    19-35-189-1-2                24-32-252-0-0
Sacked-Yards                            2-20                                                  0-0
Net Pass Yards                           169                                                  252
Total Yards                                    297                                                  474
Fumbles-Lost                              0-0                                                   0-0
Turnovers                                         2                                                      0
Penalties-Yards                             6-65                                             8-95
Third Down Conv.                          3-11                                             7-14
Fourth Down Conv.                           0-1                                               0-0
Time of Possession                        23:30                                           36:30
Game notes
• In the past 8 games were Albert, Pouncey & James have started and finished since 2014 the Dolphins are now averaging 156 rushing yards. Add to that upgrades with Laremy Tunsil and Jermon Bushrod this season and you have Jay Ajayi going off like he did.
• Adam Gase did not try to go for it on 4th downs Vs the highly ranked Steelers thankfully but he did try an onside kick that was called back from the ref not being ready (it failed and would have given the Steelers 25 yards)
• Early in the fourth quarter Adam Gase saw that the wrong personnel were on the field for the play and called a time out this shows he is gaining a hold on his new position as a first time head coach.
• The use of Arian Foster on third downs catching and running while still early is not working out.
Final notes
The Miami Dolphins offense has passed the test of having the starting five linemen and the expectations of matching prior performances under the same circumstances and even running for more yards. However the last run of 62 yards could have been a case of the defense not ready for it as it appeared that the Dolphins could have downed the ball each down to run out the clock with a minute left.
One other thing of note is that QB Ben Roethlisberger had played injured. To truly gauge this offense this factor would have to change for upcoming games