Passion: Is there ever too much from Jarvis Landry?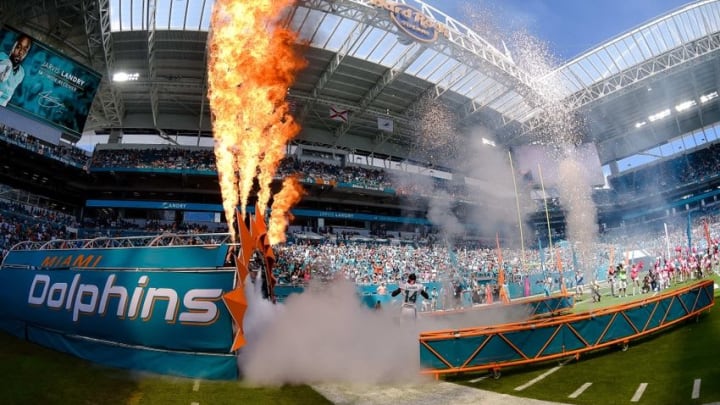 Oct 9, 2016; Miami Gardens, FL, USA; Miami Dolphins wide receiver Jarvis Landry (14) is introduced before game against the Tennessee Titans at Hard Rock Stadium. Mandatory Credit: Steve Mitchell-USA TODAY Sports /
Fans love the passion Jarvis Landry shows on the field every week.  Is there, however, a such thing as too much passion?
More from Dolphins News
Landry, third year pro out of LSU, is undoubtedly one of the team leaders on the field.  Every since he stepped into the lineup in 2014 we've seen what he brings to the table whether it be on offense or on special teams.
Natural athletic talent isn't all Landry has going for him.  It's evident that the talent is there; Landry was rated the 98th best player in the league by his peers this past offseason.  His 194 passes caught throughout his first two seasons in the league is an NFL record.
We come to expect 6-10 catches a week from Landry because that's just what he does.  While not a burner in terms of speed, he's one of the quickest and most agile athletes in the league which allows him to find the open space in the defense.
What we all really love isn't the catches whether it be with one or two hands.  I can personally say a one-handed catch doesn't have the "wow" factor it used to.
Thanks Odell.
What we really love to see is what happens once Landry completes the catch.  It's safe to say that anything is possible.  His drive to be the best is higher than anyone else's in the league which is why he constantly reminds himself every time he looks in his locker at Hard Rock Stadium.
The passion is there.  If there's a yard to be had then Landry is putting his pads down and he's getting it.  If there's a block to be made then Landry is laying the wood.  And if there's a little trash talking to be had you can bet Landry will gladly oblige.
Which leads us to the question "is there ever too much passion coming from Landry"?
Absolutely not.  One should never be faulted for playing tough from snap to whistle.  There could, however, be a cause for concern with trash talking on the sidelines that ultimately leads to penalties.
As stated above, Landry is a leader on a Miami Dolphins squad that's playing with a lot of swagger.  If Miami wants to make the playoffs this season he'll need to continue being the "juice" in our Sunday afternoon drinks.