Miami Dolphins 2017 offseason free agent watch Julius Thomas edition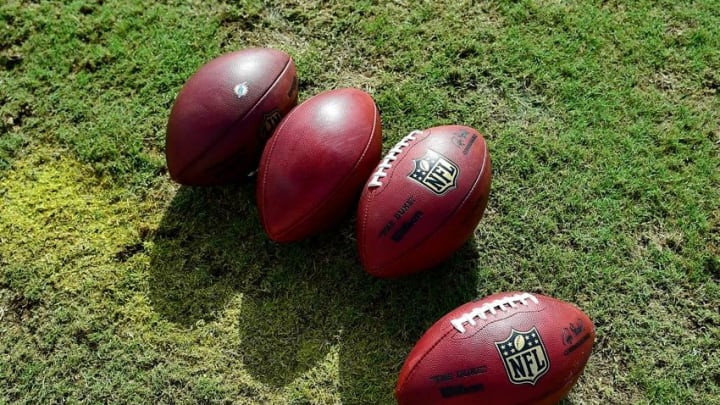 Aug 4, 2016; Miami Gardens, FL, USA; NFL football are seen at the practice field during practice drills at Baptist Health Training Facility. Mandatory Credit: Steve Mitchell-USA TODAY Sports /
The offseason free agency period has opened and with it comes speculation as to what players may or may not leave their teams to then get picked up by other teams like the Miami Dolphins.
So far nothing outstanding has happened from players cut so far. Most are aging players that have underperformed or have been injury prone. Just the type of players that the Miami Dolphins should be looking to cut themselves.
More from Dolphins News
This time of year can be intriguing trying to figure out things ahead of time by looking at which players are reported to possibly be cut then pairing them to needs for the Miami Dolphins. Availability is not the only factor. Players with fewer than four years of service for benefit purposes are subject to waivers and their contracts can be claimed by other teams. Players with four or more years of service become free agents when released and can be immediately signed.
Julius Thomas falls into the later having played four or more years. Many have speculated that he should be cut. He has a $3 million injury bonus that becomes fully guaranteed on February 10. Furthermore the Jaguars would save $4.7 million against the cap. And they view him as unproductive with his 46-455-5 and 30-281-4 receiving lines in 2015 and 2016, respectively, while missing 11 games to injuries.
So his main liability is durability, he has yet to complete a full season. But here comes the caveats, he only played in seven more games on his last team the Broncos comparing the last two season from both teams. Adam Gase was his offensive coordinator and got a pair of twelve touchdown seasons out of him. Thomas had a total of nine his two season with the Jaguars.
Many are still speculating that a high draft pick possibly the first pick at twenty-two will go toward a tight end like David Njoku as Brian Miller has pointed out here.
He must have grown tired of this speculation as it is out of kilter to the needs of the Miami Dolphins. When you consider that the highest need for this coming draft is linebacker and It is looking like the top LBer's will be gone by the second round it just won't line up unless some moves take place in free agency. The same goes for TE's by the third round.
By tomorrow it will be clear the commitment the Jaguars have with Julius Thomas and whether the Miami Dolphins would make a move to get him should he be cut. If that turns out to be the case and they do get him it would end the speculation of a first round pick going for a tight end rather than trying to double down on getting two linebackers with the first two picks however they usually don't double down.