Dolphins trade for Thomas could impact Dion Sims staying in Miami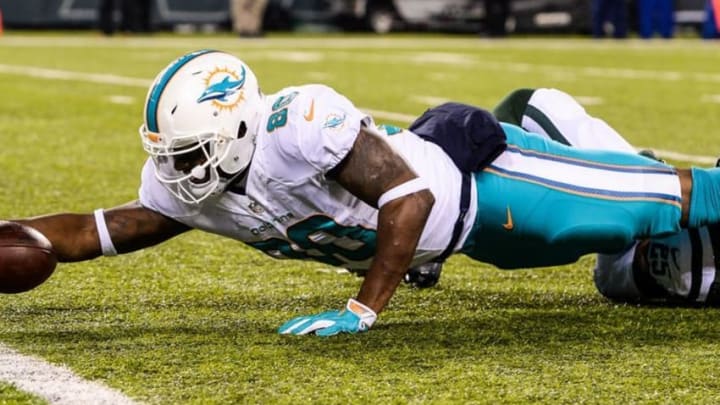 Dec 17, 2016; East Rutherford, NJ, USA; Miami Dolphins tight end Dion Sims (80) reaches for the goal line against the New York Jets in the third quarter at MetLife Stadium. Mandatory Credit: Dennis Schneidler-USA TODAY Sports /
The Miami Dolphins are close to finalizing a trade for Jacksonville TE Julius Thomas and as a result the Dolphins plans for the off-season might just change.
With free agency only a mere 18 days away the Dolphins have to make a lot of decisions especially as they relate to their own impending free agents. Dion Sims is one of those that could soon test the open market.
The Thomas trade would not remove the possibility of Sims making it back on the Dolphins roster but it could make it harder. Most of that will depend on what Miami does with the current contract of Julius Thomas.
Thomas' contract will put his cap number at $8.3 million in 2017. That number will jump to $9.8 in 2018 and cap at $10.3 in 2019. After the 2017 season the Dolphins would have little dead money should they release him. The  most being $2.4 million dead money in 2018 should they let him go.
It's unlikely that the Dolphins are going to keep his salary the way it is currently. $9 million plus and even $8.3 is a little high for a tight end who has really not performed as well as he did in 2013 and 2014 while in Denver. Those two Pro-Bowl seasons led to his 5 year $46 million deal as a free agent two seasons ago.
The issue here is how it relates to Miami's available spending funds at the position for Dion Sims. Sims has produced fewer statistically numbers in his four years with the Dolphins than Thomas did in his two seasons with the Jaguars but Sims has begun to show signs that he can be a legitimate starting tight-end in the NFL.
More from Phin Phanatic
Sims' biggest downside is he lacks the speed needed to be a downfield seam threat and he really doesn't possess the consistency to be the go to tight-end. He is however a very good in line blocker that has developed each year. He is a capable receiver in the flats and on tight-end screens but hasn't really developed into that big red-zone threat Miami had hoped for.
The free agent market isn't deep with tight-ends this year especially at the top and Sims is not one of those at the top. He is however young and won't be overly expensive. Spotrac.com has put his market value at $4.9 million per season. That may be a little more than Miami will want to pay if this trade goes through.
Miami likes Dion Sims and heading into the off-season it was rumored that Sims was a priority re-sign from the decision makers in Miami. He has a good work ethic and the players and coaches like him. The Dolphins also have hopes for former 7th round pick Thomas Duarte and MarQuies Gray who showed some value in 2016.
A trade for Thomas could put Sim's future in Miami in serious doubt. At this point it's unknown whether the Dolphins will let Sims test the market and then hope they get a chance to match or if they try to sign him before FA begins. Of course they could also simply shake his hand and let him go.
Ideally, if the money is right, Sims could get better with Thomas on the team. He may not be ready for a full time number one TE position but he is a good TE-2.