Miami Dolphins last shutouts a reminder things need to change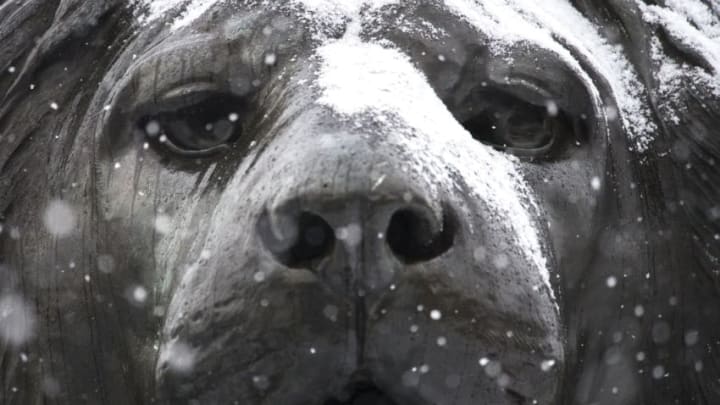 LONDON, ENGLAND - FEBRUARY 28: Snow falls on a lion in Trafalgar Square on February 28, 2018 in London, United Kingdom. Freezing weather conditions dubbed the "Beast from the East" bring snow and sub-zero temperatures to the UK. Amber warnings are in place in northern England, the East Midlands, London, the east and south-east of England. Scotland's weather warning has been upgraded to red, which means risk to life, widespread damage, travel and power disruption are likely. (Photo by Alex Burstow/Getty Images) /
The Miami Dolphins have had a stellar history that has produced some fantastic records but when was the last time Miami pitched a shutout? Or got shut out.
Over the course of these next two months of doldrums we will take a look at some of the "last times" for the Miami Dolphins. Such as the last time the Dolphins shutout a team and got shut out. Some of the pieces will shine some light on a few special players while others may make us want to hide under a bed until the season gets here.
Here is a look at the Dolphins and their most recent shutouts on both sides of the ball.
Prior to last season the Dolphins had not shut a team out since 2014 when they blanked the visiting San Diego Chargers on November 2nd. The Dolphins rode the arm of Ryan Tannehill and the legs of Lamar Miller. Tannehill threw for 288 yards on 24 completions with three touchdowns.
It was however the defense that shut the high-octane Charger offense down.
The Dolphins defense held Phillip Rivers to just 138 yards in the air and only 12 completions on the day. On the ground Miami's defense kept the Chargers at 50 yards total. The Dolphins defenders sacked Rivers four times, recovered two fumbles, and intercepted the San Diego offense three times with Brent Grimes taking two out of the air.
More from Phin Phanatic
Unfortunately there are two sides the history coin and Miami has had their share of being shutout as well.
Prior to the 2017 season the Dolphins had not been shut out since a December trip to Buffalo in 2013. The 19-0 scoreless game for the Dolphins was tightly packed away by time until 2017 rolled around.
2017 was not a good year for the Dolphins on or off the field. In week two the Dolphins literally came one second away from being shutout by the Jets in New York. As time ticked to zero Jarvis Landry scored a touchdown to keep the shutout, out of Dolphins history.
Miami wasn't going to have that kind of luck the rest of the year.
In week three the Dolphins atoned for that last-minute touchdown and got blanked by the Saints in London 20-0. Four weeks later they put a big egg on the board against the Ravens as well. Losing that game 40-0.
And those are the "last times" in Dolphins history.