Miami Dolphins camp watch: Daniel Kilgore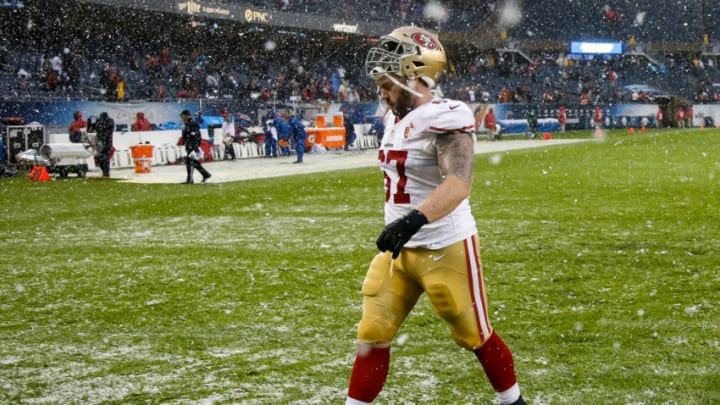 CHICAGO, IL - DECEMBER 04: Daniel Kilgore #67 of the San Francisco 49ers walks toward the locker room at the conclusion of the game against the Chicago Bears at Soldier Field on December 4, 2016 in Chicago, Illinois. The Chicago Bears defeat the San Francisco 49ers 26-6. (Photo by Joe Robbins/Getty Images) /
When the Miami Dolphins begin camp in a few weeks, Daniel Kilgore will be a player that many should keep an eye on.
The Dolphins may have their best offensive line in the last few years but there will be questions about Daniel Kilgore and the departure of Mike Pouncey.
Kilgore came to Miami via trade. In fact, the trade that brought him to Miami was announced as the Dolphins were releasing Pouncey. As the story goes, Pouncey was approached about taking a pay cut, he wanted a pay increase then asked for his release and it was granted.
Over on the West Coast, Kilgore had signed a three-year extension in February. On the first day of the free agency opening the 49'ers added a center from the New York Giants. Kilgore and his contract were no longer needed and the 49'ers began to look for a partner.
Miami came calling and in a matter of one day, Kilgore goes from being the starting center in San Francisco to the starting center for the Miami Dolphins. While his contract didn't change, his salary did. Kilgore left the high tax bracket of California for the no state tax of Florida.
Mike Pouncey was a very good center but Pouncey had a lot of problems, mainly staying healthy. The Dolphins rested him a lot in training camp last season and through the year and that really hurt the continuity and consistency of the Dolphins offense. Particularly the offensive line. Kilgore on the other hand won't have that issue.
More from Phin Phanatic
For the first time in a number of years, perhaps all the way back to the Richie Incognito days, the Dolphins enter training camp with their offensive line set. No question marks, no turnstile rotations to see what fits, just a starting unit from right to left. And Kilgore is the anchor to it all.
Kilgore is going to have help. Left guard Josh Sitton is one of the best in the NFL and will help Kilgore with adjustments as needed. Ja'Wuan James at right tackle will join with Kilgore to help Jesse Davis at right guard. Of course Laremy Tunsil will return for his 2nd season as the full-time left tackle.
Everything however depends on Kilgore. From the snap to the line exchange and blocking schemes, Kilgore will be the man in charge on that line and how well he performs could go a long way into how the season goes for the Dolphins. It's because of this that Kilgore is one of the players to watch in training camp this year.