Dolphins players worth a late round fantasy football flier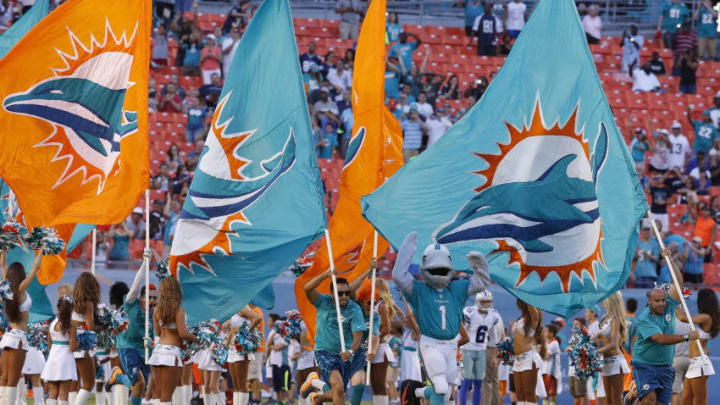 MIAMI GARDENS, FL - AUGUST 23: Miami Dolphins cheerleaders, flag bearers and the Dolphins' mascot celebrate as their team runs onto the field before meeting the Dallas Cowboys in a preseason game at Sun Life Stadium on August 23, 2014 in Miami Gardens, Florida. (Photo by Rob Foldy/Getty Images) /
Dolphins players are not typically seen as elite fantasy football options, but there are a handful of players worth consideration as late round fliers.
Thousands of fantasy football leagues have conducted their respective league drafts this past week with thousands more to be done throughout the weekend now that the preseason is complete. Many fantasy players research for weeks, some even months, for their drafts. One consensus that can be had from their findings is that Miami Dolphins players are not typically on their radars.
Even the most die-hard Dolphins fans that play fantasy football would admit this. The only player on the roster worth taking in the early rounds is Kenyan Drake. According to Fantasy Pros, Drake is registering an ADP (Average Draft Position) of 36.2 in PPR leagues. That means that fantasy outlets are taking him in the 3rd or 4th round areas of drafts.
All of the rest of Miami's players are pretty much viewed as non-factors, with most of them going undrafted completely. While it makes sense since the Dolphins offense hasn't been known to produce strong fantasy football production. That's not to say that it's been outright terrible or that it will be this season. Personally, I think Miami's offense will be pretty good this year, but no one player stands out as a solid fantasy option other than Drake.
Even though many fantasy players are glossing over the Dolphins, I think there are a few names worth consideration as late round fliers. Although there may be question marks surrounding the Dolphins offense, the opportunities of upside and potential should not be ignored.
More from Phin Phanatic
For example, Miami brought in the veteran Frank Gore this off-season on a one-year deal. Although Gore is 35 years old, and played just a handful of snaps in the preseason, he is expected to share a considerable amount of carries with Drake. More importantly, he could be the guy that the Dolphins call upon in goal line situations, where Drake has struggled at times. With an ADP of 209.0, Gore is going undrafted in a strong majority of fantasy leagues.
Miami's receivers are all over the place, and it's easy to see why they aren't getting any recognition in fantasy leagues. Wide receiver is a pretty strong area for the Dolphins across the board, but they don't have that #1 threat that fantasy players typically look for when drafting. Receptions could be well spread out, and that hurts their values individually as a result. However, guys like DeVante Parker and Kenny Stills are being overshadowed in many drafts.
No matter what you may think of Parker, he was viewed as a high-end WR2 at this time last year, and that was with Jay Cutler at quarterback. With Ryan Tannehill returning, Parker could net those kind of numbers once he returns from his own injury. It's definitely worth picking him in the final two rounds to find out. Stills, on the other hand, has to be the Dolphins number one receiver at this point.
More from Phin Phanatic
Rated slightly ahead of Parker on draft boards (116.8 compared to 120.0), Stills is a boom-or-bust type player because of his involvement on deep balls. In the preseason, however, Tannehill has found #10 in more underneath patterns, and it's possible that could warrant over into the regular season. If it does, that would certainly enhance Stills' volume.
Danny Amendola is another name worth mentioning. The former Patriot is taking over Jarvis Landry's former role in the slot. Tannehill has always preferred to throw to his guys in the slot, and both players showed a lot of chemistry in training camp and the preseason. With Amendola, injuries are always a concern, but for a guy that's going undrafted in most leagues, there's virtually no risk to take a chance on him.
The last intriguing option is Mike Gesicki. Tight end has always been a scarce position, and unless you take guys like Rob Gronkowski, Travis Kelce, or Zach Ertz in the early rounds, consistency may be hard to find. The Dolphins barely used Gesicki in the preseason, but that was by design. The truth is, the rookie had a terrific training camp, and he should be a legitimate red-zone threat for the Dolphins come the start of the season. He could prove to be a viable backup to draft with starter potential down the road.
Guys that I would steer clear of for now are Tannehill and rookie RB Kalen Ballage. Tannehill could be a backup consideration, but I think there are better options out there unless you are in a 2 QB league or deeper leagues. Ballage has had a solid preseason, and has showcased that he can run and catch very effectively. Some analysts view him as a deep sleeper, but I just don't think that he will see enough volume to generate expected results. He is an option in deeper leagues, and would get a huge boost if an injury to Drake or Gore would occur.