First weekend of NFL football: Predicting who will win and who will lose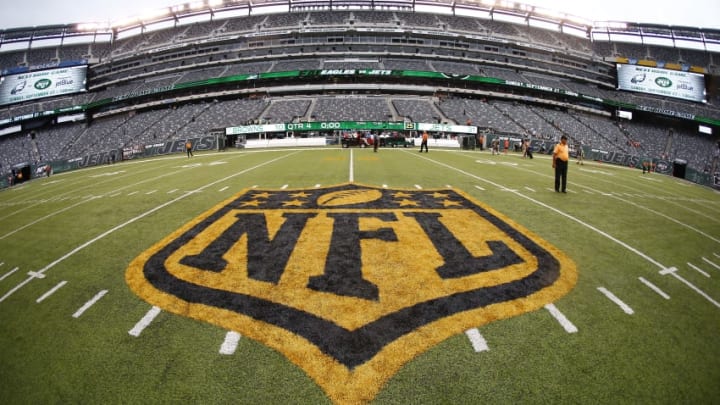 EAST RUTHERFORD, NJ - SEPTEMBER 13: The NFL shield is painted in gold and black after a game between the Cleveland Browns and the New York Jets at MetLife Stadium on September 13, 2015 in East Rutherford, New Jersey. The new color scheme is to commemorate this years' Super Bowl witch will be the 50th edition. (Photo by Rich Schultz /Getty Images) /
The first week of the NFL season has arrived with the Eagles and Falcons kicking off the 2018 season on Thursday night.
This first game, of the NFL first week, of the 2018 season is finally upon us. The wait has been long over due. After a long offseason and 5 weeks of preseason in the rear-view mirror, it's time for the games to start counting. There are some great matchups this week, but it's week one, so really no one knows what's going to happen. We're just excited as you are so here are my picks for week one.
Falcons at Eagles
Thursday 8:20 pm EST,
Lincoln Financial Field, Philadelphia, Pennsylvania
Both of these teams underperformed in preseason, but does that really matter? That's a question that will soon be answered, but for now one thing is for sure: Nick Foles is starting and he did not look good this preseason. Against the Browns in Week 3, Foles threw two interceptions, was sacked three times, including once for a safety, and fumbled once as well. All in one half.
The defending champion Eagles were shut out by the Browns, a team that hasn't won a regular season game since December of 2016, and showed no signs of life offensively, in an ugly 5-0 defeat. The Falcons haven't looked all that much better, getting blanked by the Jets in the first week, giving up a deep touchdown to Patrick Mahomes III in the second, and failing to score a touchdown in the third.
Despite both teams' preseason struggles, each team has the talent to have a terrific season that will all start tonight. The Eagles will have home-field advantage, which always plays a role in the opening game (except for last year, of course), and it just seems like Nick Foles turns a switch when the lights come on the world starts watching. It should be close, but in the end the Eagles prove to be the more talented team.
Eagles 20 Falcons 14
Bills at Ravens
Sunday 1:00 pm EST
M&T Bank Stadium, Baltimore, Maryland
If you thought the Eagles looked bad in their third game of preseason, take a look at the Buffalo Bills. The Bills, led by rookie QB Josh Allen, went to the locker room down 20-0 to the Bengals before pulling their starters. It's simple, the Bills were completely outplayed during the first half, in every phase of the game.
Allen, who struggled mightily with accuracy in college at Wyoming, completed just 50% (6 of 12) of his passes for only 34 yards (2.8 average) and no touchdowns, good for a passer rating of 56.3. The defense could not get off the field and Andy Dalton shredded the secondary. The offense struggled to get anything going, and the offensive line looked abysmal. Suffice to say, it was a rather poor outing from the Bills.
The Ravens have looked good in preseason, going 5-0 and more importantly playing well in the first half of games when the starters are in. All signs point to a Raven beat down, especially with second year QB Nathan Peterman getting the nod over the rookie Allen, and the last time Peterman played in a regular season game, he completed just 42% of his passes for 66 yards and 5 INTs, good for a 17.9 passer rating. The good news is, it can only go up from here, right?
Ravens 24 Bills 6
Jaguars at Giants
Sunday 1:00 pm EST
MetLife Stadium, East Rutherford, New Jersey
Many, including myself, believe that the Jaguars have the best defense in football. Jacksonville's defense is stacked at D-line (Calais Campbell, Malik Jackson, Yannick Ngakoue, Marcell Dareus, Dante Fowler Jr.- suspended for week 1, and Taven Bryan) and in the secondary (Jalen Ramsey, A.J. Bouye, Tashaun Gipson, Barry Church, and Ronnie Harrison). However despite, having Myles Jack and Telvin Smith at Linebacker, they lack depth in the middle of the field.
This may just be nitpicking because this is still the most talented defense on paper (The Los Angeles Rams would have something to say about that). But it's the offense that sets this team apart as a contender. The Jaguars have dominating offense line that was greatly improved this offseason to go along with a bruising bell-cow back in Leonard Fournette, and exciting, an up and coming receiving corps lead by Kealen Cole, Dede Westbrook, and D.J. Chark, and a decent, yet capable QB in Blake Bortles.
The Jaguars are a serious Super Bowl contender in 2018. As for the Giants, they should be much improved from last year, especially on offense with Pat Schurmer and Saquon Barkley lined up behind Eli Manning. In the end, the elite Jaguars are just too much to handle for a Giants team that could sneak into the Wildcard.
Jaguars 23 Giants 17
Buccaneers at Saints
Sunday 1:00 pm EST
Superdome, New Orleans, Louisiana
Another serious Super Bowl contender, the New Orleans Saints, have the tools to be one of the best offenses and most complete teams in the league. Any time, you have a future hall of famer slinging it around back there, your team could and likely will be dangerous, but it's not because of Drew Brees toss 'n the ball around the yard that the Saints could win it all this year.
Certainly Brees will play a vital role in the saints offense, because, well, he's very good, but second year running back and last year's Offensive Rookie of the Year, Alvin Kamara can take the Saints to where they want to go. Oh, and they also have 2x Pro Bowler, Mark Ingram in the backfield, to go along with super-star receiver Michael Thomas.
The trio can form a dominating tandem that should ascend the Saints to one of the best offenses in the league, with Drew Brees being the guy calling the shots of course. Defensively, the Saints have last year's Defensive Rookie of the Year in defensive back Marshon Lattimore and sack machine Cam Jordan, who was tied for fourth in the league in sacks last season.
Needless to say, the Saints are a very talented team. The Buccaneers will be starting backup QB and former Harvard graduate Ryan Fitzpatrick because starter Jameis Winston was suspended for the first games of the season for violating the NFL's personal conduct policy. The Saints are a better more complete team with the better player taking snaps, and that will show this Sunday at the Superdome
Saints 31 Buccaneers 14
Texans at Patriots
Sunday 1:00 pm EST
Gillette Stadium, Foxborough, Massachusetts
Deshaun Watson, the favorite for 2017 Offensive Rookie of the Year prior to tearing his ACL in practice last November, is finally back and is ready to pick up right where he left off last year terrorizing opposing defenses. Not so fast, Deshaun, the Texans open with maybe the toughest game of any team, on the road against the defending AFC Champion New England Patriots.
The Patriots do not have the same talent that they've have had in years past, but they still have Brady and Belichick- the only constants that seem to matter.
Deshaun Watson can take advantage of a lackluster Patriots defense, getting the ball to his All-Pro receiver DeAndre Hopkins, and the Texans should score some points. J.J. Watt and Jadeveon Clowney should be able to get plenty of pressure on Brady with no clear answer at left tackle for New England. The Patriots might struggle at first, and this game should be close, but at the end of the day one team has Tom Brady, and the other does not.
Patriots 27 Texans 24
49ers at Vikings
Sunday 1:00 pm EST
US Bank Stadium, Minneapolis, Minnesota
The Vikings made maybe the biggest move this offseason, signing former Redskins signal caller Kirk Cousins to a 3-year $84 million fully guaranteed contract, the first of its kind. Minnesota already had the talent to be contender but wanted to upgrade from Case Keenum who did a stellar job filling in for Sam Bradford when he went down with an injury, leading the Vikings to the NFC Championship.
Bradford is now in Arizona and Keenum in Denver, leaving the void wide open for Cousins to fit right in. The Vikings have a superb defense led by Everson Griffen, Anthony Barr, Xavier Rhodes, and Harrison Smith and a young, ascending offense around with Cousins led by Stefon Diggs, Adam Thielen, and Dalvin Cook.
The Vikings are a scary team this year, but don't overlook the Niners. San Francisco's QB, Jimmy Garoppolo, has yet to lose a game in his career and is in perfect scheme under Kyle Shanahan that should keep him comfortable and playing well. This is a likely spot for Garoppolo to lose his first game, as they'll be playing a more talented team in a tough environment.
The Niners can keep it close early on, but Cousins, the Viking's defense, and the crowd will be too much for Jimmy G and the Niners.
Vikings 27 49ers 17
Bengals at Colts
Sunday 1:00 pm EST
Lucas Oil Stadium, Indianapolis, Indiana
Neither of these teams open up the 2018 season with Super Bowl expectations but either one can surprise quite a bit. The Bengals looked really good in their third preseason game, but we don't if that was more the Bengals being good or just the Bills being bad, either way, we know their not the worst team in the league, and they looked pretty far from it.
Last season the Bengals upset win over the Ravens in week 17 put the surprise Buffalo Bills into the postseason, it could be just the opposite this year. A.J. Green and Andy Dalton both search for a bounce back this year and the Bengals have just enough talent to end the season with a winning record.
The Colts, meanwhile, don't have a lot of talent offensively or defensively, but they do have their Pro Bowl QB back with Andrew Luck. Still, it's been approximately 616 days since Luck has last played in a regular season game, and rust is to be expected. The Bengals eek out a close one in Indy.
Bengals 20 Colts 19
Steelers at Browns
Sunday 1:00 pm EST
FirstEnergy Stadium, Cleveland, Ohio
The Browns are completely new-look team and franchise, and truly believe they are set for a major turnaround. Despite all the new in the Brown's building, one thing remains constant: HC Hue Jackson. As Head Coach of the Cleveland Browns, Jackson has won a whopping 1 game in 32 tries. That is not what would be considered a winning record.
The Browns believe the poor record is due to a lack of talent, but if you gave Bill Belichick the same teams Hue Jackson, they probably at least reach the playoffs. Either way, the Browns are significantly more talented this year and have a capable passer behind center in Tyrod Taylor. And the Steelers will be without All-Pro Running Back Le'Veon Bell, but James Connor should be able to do a formidable job filling in for Bell who is currently holding out in search of a better contract.
The Browns are at home and are a much better team than last year, but the Steelers still have Antonio Brown and a slew of more experienced players. The Browns will probably win a few games this year, but it may take a few tries before the Double-U's start showing up.
Steelers 24 Browns 20
MIAMI GARDENS, FL – NOVEMBER 27: Ryan Tannehill #17 of the Miami Dolphins calls a play during a game against the San Francisco 49ers on November 27, 2016 in Miami Gardens, Florida. (Photo by Mike Ehrmann/Getty Images) /
Titans at Dolphins
Sunday 1:00 pm EST
Hard Rock Stadium, Miami Gardens, Florida
It can finally be said. We have waited since December 11, 2016 to say this: Ryan Timothy Tannehill is back. That's right, for the first time in 20 games Tannehill is QB1 for the Dolphins. We are glad to have you back, Ryan. Especially after last year's experiment with a rather disinterested QB, who shall remain nameless, went so poorly.
The distractions are gone (hopefully nothing can be as bad as last season), the team is quite healthy compared to last season, and of course, most importantly, Tannehill is back. The first team the Dolphins are set to face are a rather familiar foe who the Dolphins have played in each of the last three seasons. The Tennessee Titans.
Tannehill's last outing against the Titans was mediocre at best, finishing 12-18 for 191 yards and two INTs. A few days later, the Dolphins released offensive lineman Dallas Thomas and Billy Turner after both had an awful outing against Tennessee.
Tannehill and the Dolphins didn't look back winning 7 of their next 8 games before Tannehill was lost for the season against Arizona. That was the last we had seen of Tannehill- just beginning to grip the offense and find chemistry with his receivers, playing the best football of his life.
The Dolphins now hope Tannehill can pick up right where he left off. And now with two years with Gases' offense under his belt, Tannehill may be able to do so. There may be a little rust to start, but the hope is he can shake it off pretty quickly, just as he did in preseason.
As for the Dolphins opponents, the Titans are coming off a playoff season in which they fell to the Patriots in the Divisional Round- somewhere the Dolphins haven't been since 2000. Tennessee, despite having a seemingly successful season, fired their Head coach, former Dolphins Offensive Coordinator, and Fort Lauderdale native Mike Mularkey and replaced him with former Texans Defensive Coordinator Mike Vrabel.
It's simple: like most teams, the Titan's season primarily depends on the play of their QB Marcus Mariota. The former second overall pick, looked like he was on his way to a very successful NFL career after his first two years, but has yet to build of them since. If he can progress, the Titans will likely see a repeat in success, if not, it will be a long season for folks in Nashville. The same goes for Tannehill, as the Dolphins season also primarily depends on his play.
Now, as for this game on Sunday, Dolphins starting receiver, DeVante Parker will not play as he is nursing a broken finger, which leaves Albert Wilson and Jakeem Grant to fill the void. The Dolphins have a lot of up and coming talent on both sides of the ball, led by Cornerback Xavien Howard on defense and Running Back Kenyan Drake on offense.
It will also be exciting to see rookies Minkah Fitzpatrick and Mike Gesicki in their first regular season game action. Anyone who follows the Dolphins knows how special those two are and how truly good they can be. Get ready Dolphins fans, the fun starts Sunday. The Dolphins should get help from the heat and the home crowd as they sneak past the Titans in an opening game that could really go either way.
Dolphins 20 Titans 17
Chiefs at Chargers
Sunday 4:00 pm EST
StubHub Center, Carson, California
This game can almost be treated as a neutral site game as there should be as many Chiefs fans as Chargers fans there. With plenty of red in the stadium can be encouraging for a young QB starting just his second career game- the first one that counts. As we've seen throughout preseason and throughout his college career, Patrick Mahomes III can throw the ball down the field, an expect him to target the long ball quite a few times with Tyreek Hill especially with Jason Verrett again out for the year.
The Chargers have been a popular pick for surprise Super Bowl run, but down sleep on the chiefs either, who get All-Pro safety Eric Berry back, and have an exciting offense that will surely connect on plenty of big plays throughout the season.
The Chargers should be able to get plenty of pressure on Mahomes with Joey Bosa and Melvin Ingram coming off the edge, but the Chiefs have just too much fire power on offense with Travis Kelce, Kareem Hunt, newly acquired Sammy Watkins, and Hill for the crippled Chargers secondary to handle.
Chiefs 27 Chargers 20
Seahawks at Broncos
Sunday 4:00 pm EST
Broncos Stadium at Mile High, Denver, Colorado
A few years ago, this might have been the biggest game of the week, or even the season. But times of changed. A rematch of Super Bowl 48, that was barely a match at all, comes 4 years later and comes as both teams appear to be in a bit of downfall. The Broncos might be better than people expect, and will almost certainly eclipse last season's 5 wins.
Newly acquired QB Case Keenum has looked good in preseason and is ready to shock a lot of people outside of Denver. The Broncos have a pass-rush that rivals the Charger's with Von Miller and first round pick Bradley Chubb. The team offense still has Demaryius Thomas and Emmanuel Sanders and should have an improved running game with rookie back Royce Freeman.
The Seahawks have lost a lot defensively but at least will still have Bobby Wagner and Earl Thomas defensively and Russell Wilson and Doug Baldwin on offense. The team drafted running back Rashad Penny in round one of the draft, but he appears to be slow out of the gates with injury concerns.
Watchout for rookie Linebacker Shaquem Griffin, who is a lot more than just feel-good story and could legitimately lead the Seahawks in tackles. The game is Denver, and overall the Broncos are likely the more talented team. Broncos by a touchdown.
Broncos 23 Seahawks 16
More from Dolphins News
Cowboys at Panthers
Sunday 4:00 pm EST
Bank of America Stadium, Charlotte, North Carolina
Likely the most anticipated NFC showdown this week, Dak Prescott and the Cowboys travel to Charlotte in what should be interesting matchup of teams that have had recent successes and want so desperately to get back to their winning ways. If Cam Newton can play like he did in 2015, when he was named Most Valuable Player, the Panthers will be in good shape to contend for a divisional title.
With the ever elusive Christian Mccaffrey on offense and tackle machine Luke Kuechly on defense, the Panthers have the talent to hang with anyone in the NFC, but may struggle at times with both tackle spots being a concern. Demarcus Lawrence should get his fair share of pressures to the QB and the Cowboys should be able to hang with Panthers even though they're away from home.
Both Offensive lines will likely struggle, but star running backs Ezekiel Elliott and Mccaffrey should find holes and get points on the board. A late field goal from Graham Gano gives the panthers the decisive victory on their home turf.
Panthers 24 Cowboys 21
Redskins at Cardinals
Sunday 4:00 pm EST
State Farm Stadium, Phoenix, Arizona
The Cardinals will be starting heavily injury prone Sam Bradford at QB this week and it's unclear how long he'll be healthy this season. Meanwhile, the Redskins also have new signal caller in former Chief Alex Smith, trading for him this offseason and letting Kirk Cousins walk in free agency.
It seems as if there are more questions than answers for both of these teams, but it just feels like the Cardinals are more talented, with Larry Fitzgerald and David Johnson on offense and Patrick Peterson and Chandler Jones on defense.
New Head coach Steve Wilks is a perfect fit and a great defensive mind and knows how to get the best out of his players. Alex Smith is a very capable passer and will certainly keep the chiefs in this game but a couple big runs from David Johnson and interception from Patrick Peterson will be enough to fend off Washington.
Cardinals 21 Redskins 17
Bears at Packers
Sunday 8:20 pm EST
Lambeau Field, Green Bay, Wisconsin
With former Chiefs offensive coordinator and new head coach Matt Nagy now at the helm in Chicago, the Bears enter the season with some high expectations. They made plenty of splashy moves this offseason, signing Allen Robinson II, drafting linebacker Roquan Smith in the first round, and more recently acquiring All-Pro linebacker Khalil Mack from Oakland via trade.
Mack joins an already solid linebacking core that has Smith, Leonard Floyd, and Danny Trevathan. Second year QB Mitch Trubisky looks to make the big jump this year, and he has the talent offensively to do so, with Jordan Howard and Tarik Cohen in the backfield, and receiving corps led by Robinson, rookie Anthony Miller, and newly signed speedster, Taylor Gabriel.
Now the Bears get rewarded by getting to travel to Green Bay to play the Packers under the lights on Sunday Night Football. Oh and Mr. Aaron Rodgers, now the NFL highest-paid player, is back and he is ready to go. The new look Bears should compete with Rodgers and Co. but it's never an easy task defeating the Packers at Lambeau. Packers by six.
Packers 30 Bears 24
Jets at Lions
Monday 7:10 pm EST
Ford Field, Detroit, Michigan
The first rookie QB to see game action will be former USC standout, and third overall pick, Sam Darnold. Jets fans have very high expectations for Darnold coming into the season, just as they did for Mark Sanchez prior to his rookie year. Usually, it takes rookie QBs some time to get going, and that should be expected on the road in prime time for Darnold.
Darnold has been the most impressive of the slew of rookie first round QBs this year but he hasn't yet achieve any status above decent. The Lions still have Matt Stafford taking snaps, which means they'll do what they do offensively, especially with rookie Kerryon Johnson in the backfield now, but the defense should be improved with a defensive-minded head coach in charge in former pats Defensive Coordinator Matt Patricia. The lights might just be a little to bright for Darnold in his first career start.
Lions 17 Jets 10
Rams at Raiders
Monday 10:20 pm EST
Oakland Alameda Coliseum, Oakland, California
The Rams might have higher expectations than any other team in years, that, after numerous major moves this offseason, believes is ready for a Super Bowl run in 2018. The Rams, on paper, are the most talented team in the NFL.
The Raiders, however, are not. Oakland instead is one of the least talented teams in the NFL, and faces a tough task at home in week 1. It is unclear how well the big personalities and stars on the Rams will blend together, but it is clear that they have the clear advantage over the Raiders talent wise. The Oakland home crowd will give the Raiders help, but still not enough to overcome the huge talent discrepancy. Rams win big.
Rams 31 Raiders 10