Miami Dolphins vs. the Packers is more personal than just a game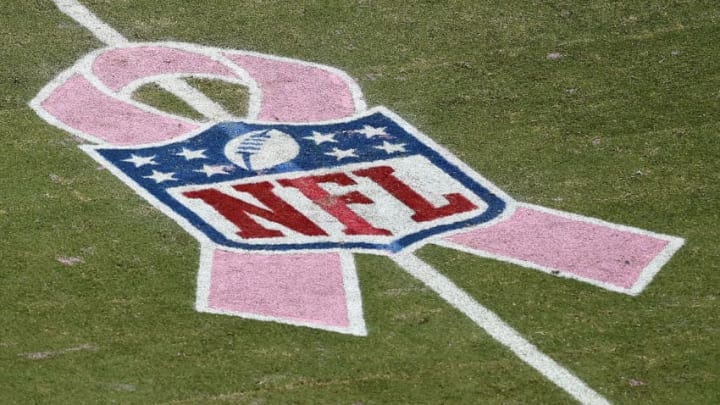 MIAMI GARDENS, FL - OCTOBER 12: The National Football League Breast Cancer Awareness logo is seen during a game between the Miami Dolphins and the Green Bay Packers at Sun Life Stadium on October 12, 2014 in Miami Gardens, Florida. (Photo by Joel Auerbach/Getty Images) /
The Miami Dolphins on Sunday will take on the Green Bay Packers and while it is just a game, for this writer it's far more personal in nature.
When the Miami Dolphins play the Packers this Sunday it will be more than just another game for me and I will explain why in a moment. The teams have met 14 times throughout the leagues history with the Dolphins owning a 10-4 series lead. Over the last six contests between the two however, the Dolphins have only two wins in those six contests. The Dolphins hope to change that this time around.
Miami will have injuries on both sides of the ball and both offensive tackle positions are early questions after Ja'Wuan James and Laremy Tunsil both suffered what are believed to be minor knee injuries. The Dolphins are hoping both players will be available on Sunday.
Defensively the Dolphins need to play near flawless football and create more turnovers against the Aaron Rodgers led Packers. The high-powered offense is primed to put points on the board after losing three of their last four to the Patriots, Rams, and Lions. Miami is coming off a rather mundane win against the Jets.
History however has become more personal though. It transcends the game somewhat. As I write this I am reminded of one person. My mother. Her favorite jersey, an authentic Aaron Rodgers jersey is two feet away from me in a frame with a picture of her at Lambeau Field.
Carol Miller ready for a Green Bay Packers game – image by Brian Miller /
My mother was a Green Bay Packer fan. The last time these two teams met, in 2014, my mother was still alive and the banter between us leading up to the game is still fresh in my mind. Miami lost 27-24 in that close contest.
More from Phin Phanatic
This time around there will not be any phone calls or texts after a score, her "Ole…ole, ole, ole ole" chant won't be heard after I pick up the phone every time the Packers score.
My mother passed away less than a year after that game from cancer so when the Dolphins play the Packers it's a big deal. On Sunday, I will be cheering on the Miami Dolphins but in the back of mind I will hear her voice singing her chants and I will wait for a phone call that will not come. But I will smile and laugh picturing her in my head.
The Dolphins are not expected to win this game but stranger things happen on any given Sunday. When they do, and I believe they can, I will tip my hat to Heaven. If they lose, I will smile upwards and send off a congratulations. Win or lose, her memory will make for a great day of football, at least for me and my Dolphins fan siblings.
Good luck mom!