Several Miami Dolphins step up in game three loss to Tampa others fail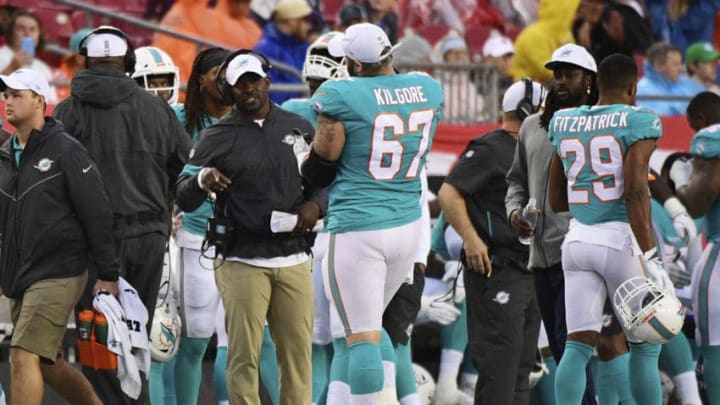 TAMPA, FLORIDA - AUGUST 16: Head coach Brian Flores of the Miami Dolphins talks with Daniel Kilgore #67 ahead of a preseason football game against the Tampa Bay Buccaneers at Raymond James Stadium on August 16, 2019 in Tampa, Florida. (Photo by Julio Aguilar/Getty Images) /
The Miami Dolphins spent a week in Tampa Bay and then played their second pre-season game of the season Friday night. It wasn't pretty.
On both sides of the ball, the Miami Dolphins had areas that need to be improved. While some players stepped up, others fell back to Earth in an ugly and quite boring football game.
To say that the Dolphins played poorly on a wet Friday night would not be entirely fair. The Buccaneers played just as badly. When the game came down to the wire, Jake Ruddock led a touchdown drive thanks to a couple of penalties and took the lead with 38 seconds left. Tampa, however, was able to drive far enough down the field in 32 seconds to kick the winning field goal.
As for the game, that is really all that matters. Individual performance, however, is something else entirely.
Preston Williams shined in week one but did not have a good game in week two. He and Josh Rosen started with the first-team units, more on Rosen further down. Williams dropped several catchable passes and the one amazing catch he did make was ruled out of bounds.
Despite being targeted, Williams was only able to pull in one pass for seven yards. Not the stellar performance fans were hoping for. It likely won't hurt his chances of making the roster but if he turns in two more games like last night, it might come in question.
Josh Rosen was o.k. He started the game and played into the third quarter before giving way to Ryan Fitzpatrick. Rosen saw several dropped passes which did not help his stats. He finished 10-18 for 102 yards. A couple of his throws were not good and he struggled with his pocket presence once the offensive line started to shuffle players. Early in the game he was able to move around the pocket and create time. The good news for Rosen is that Fitzpatrick didn't fare much better against deeper Tampa defensive players.
Fitzpatrick finished 3-9 for 20 yards and was off on his throws. Constantly under pressure, Fitzpatrick wasn't able to make plays by moving out of the pocket. He played through the third quarter and into the 4th before giving way to Jake Ruddock who would lead the team's only touchdown drive.
More from Phin Phanatic
Offensively, everything was shouldered by the offensive line who once again was offensive. Aside from Laremy Tunsil, the entire line struggled to protect the quarterbacks and create running lanes. Miami combined for a total of 21 yards rushing, two more yards came on quarterback scrambles. It was ugly.
Dolphins' quarterbacks were sacked a combined five times in the game but were under constant pressure.
While the members of the offense struggled, mostly due to the poor offensive line play, defensively the unit stepped up and for the most part played well.
Start on the defense began with Jerome Baker who continues to show the leadership potential and has adjusted well to the Brian Flores style of attacking defense. He was disruptive and his tackling was on point. In his short sting, he finished with one tackle, one assist, and one-half sack.
Baker was reliable but Sam Eguavoen made more of his opportunity and should see extended playing time this season. If there were doubts about the CFL cast-off making the roster, there shouldn't be. Eguavoen made plays and led the team in tackles. He finished with five tackles, two assists, with two tackle for losses.
Eguavoen was all over the field and filled his lanes well. He made a good statement last night.
Charles Harris had two sacks. Well, one and a half but that's o.k. Any positives from Harris is something to note. He finished the night with three tackles and an assist.
On the defensive line, first-round rookie Christian Wilkins had another solid outing. Often taking on two blockers, Wilkins was able to earn two tackles and a sack. He motored well and made plays.
Tackling continues to be an issue for the Dolphins, especially in the secondary. Miami has to become more physical at the point of attack and there were a lot of plays that should have gone in the Buccaneers favor if not for dropped passes.
The field was wet and that was a problem for both sides but it is also not an excuse. Miami has a lot of work to do and only two more games until they wrap their season. Next weeks traditional "dress rehearsal" game may not be played as many believe. Brian Flores will do what he thinks needs to be done so we may not see starters into the third quarter depending on their positions.
Overall, it was a rather boring game that saw a lot of mistakes from both teams but for the Dolphins, nothing they did positive, defensively or offensively, outshined the extremely poor play of the offensive line.