Can Miami Dolphins 'tank' their way out of Tua?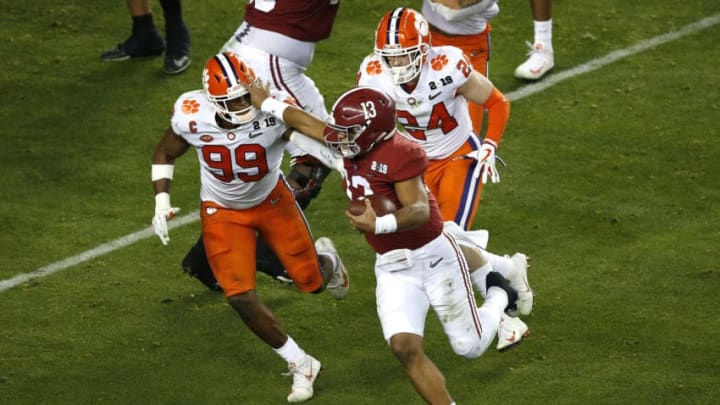 SANTA CLARA, CALIFORNIA - JANUARY 07: Clelin Ferrell #99 of the Clemson Tigers tackles Tua Tagovailoa #13 of the Alabama Crimson Tide on fourth down during the fourth quarter in the College Football Playoff National Championship at Levi's Stadium on January 07, 2019 in Santa Clara, California. (Photo by Lachlan Cunningham/Getty Images) /
Everyone across the NFL, except die-hard fans and the Miami Dolphins coaches, knew the Dolphins were going to be really bad this season.  However, losing too much could defeat the purpose.
Since GM Chris Grier and HC Brian Flores took over the franchise, it's been clear the Dolphins were willing to sacrifice 2019 for the sake of 2020 and beyond.  After one week though it might be time to ponder a difficult question:
Is there such a thing as being 'too bad'?
Over the 10-15 years, the Dolphins have lost out on free agents because players knew the franchise was dysfunctional and wouldn't be winning.  (Peyton Manning and Ryan Clark come to mind first.)  Meanwhile, the free agents that Miami has gotten have come to Miami because the team has been willing to overpay for their services (think Suh, Mike Wallace, etc).
Fast forward to 2019 and the team appears to have hit an all-time low.  With the exception of Xavien Howard, the Dolphins have jettisoned any player with the slightest bit of talent.  Some were due to salary, age and/or perceived value but others (i.e. Kiko Alonso) asked to be traded because they knew this year's team would be really bad.
With the caveat that it's only one week/game, things appear to be much direr than anyone saw coming.  In a 59-10 blowout, it's possible that Brian Flores has already lost the locker room.  If he hasn't, it won't take too many more losses like this to make it happen.
With all this in mind, if the Dolphins go 0-16 and continue to look as lost as they did Sunday, could it actually affect their plans in next year's draft?  Could quarterbacks like Tua Tagovailoa and/or Jake Fromm "pull an Eli (Manning)" and threaten to not play for the Dolphins if they are drafted?
Both players come from highly successful programs and both are expected to be very high picks in the 2020 NFL Draft.  The idea of playing for a franchise that appears so devoid of talent, especially on the offensive line, could have them questioning the career choice of playing for the Dolphins.
More from Phin Phanatic
Add to that, both players are currently playing their junior seasons and one/both could decide to return for their senior season if they aren't happy with their draft prospects.
With the Dolphins, and their fans, putting all their hopes in a top-five pick and 11-12 picks overall in the 2020 draft; what's the point in having all those resources if you can't build around the 'franchise QB' that you covet?
All this is extremely premature and may amount to nothing by the end of the year.  Then again, Flores and his staff need to put together some better showings on future Sundays or all their planning may blow up quicker than the score of their week one game.