NFL has a big injury problem they don't know how to fix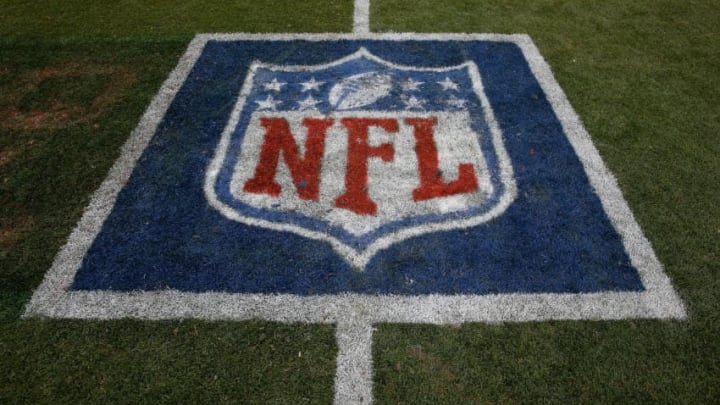 DENVER, CO - SEPTEMBER 14: The NFL logo is displayed on the turf as the Denver Broncos defeated the Kansas City Chiefs 24-17 at Sports Authority Field at Mile High on September 14, 2014 in Denver, Colorado. (Photo by Doug Pensinger/Getty Images) /
The NFL has a problem and they have no idea how to fix it. Injuries continue to pile up at the one position that is most sacred to the league and the most protected.
The NFL has rules in place to keep players healthy, especially the quarterback. Last night the league watched as not one but two players were taken off the field on a stretcher during last night's Philadelphia vs. Green Bay game.
A team like the Miami Dolphins have opted to shift from their day one starter, Ryan Fitzpatrick to Josh Rosen. In New York, the Giants benched Eli Manning in favor of rookie Daniel Jones but these replacements are not the norm. Injuries are.
The NFL has watched top talent go down this year and they have watched back-ups go down this year. The problem is there is no solution to keeping anyone healthy due to the pure nature of the game. This years quarterbacks list of injured is impressive given the fact we are entering week four of the season.
Drew Brees – 6-8 weeks with a hand injury
Cam Newton – Foot – unspecified return
Trevor Siemien – Fills in for a sick Sam Darnold and tears a ligament in his ankle. Heads to IR.
Ben Roethlisberger – Elbow injury placed on IR
Nick Foles – big FA signing of Jaguars and now on IR with a broken collarbone.
Those are just immediate starters. Blaine Gabbert, Nathan Peterman, Chad Henne, Joe Webb, Drew Stanton, are all on IR. So is Denver rookie Drew Lock.
Throw in some top players at other positions, the abrupt departure of Antonio Brown from the NFL all together and this years 100th NFL anniversary is starting to seem like an NFL throwaway to the Patriots.
There is no answer to preventing injuries. Concussions, broken bones, turf-toe, shoulder, hand, calf, etc…are as much a part of the game as anything else and each season continues to get more brutal and physical.
More from Phin Phanatic
Someday, down the long road, the league in its current form will probably not exist. It is getting to expensive for the league to operate with increasing salaries and increased liability for injury.
Players are leaving the game earlier than in the past as well and players are willing to leave millions on the table for long-term health. Andrew Lucks abrupt retirement during pre-season is a prime example.
The next CBA will likely contain language that helps protect the players a bit more but without going to flags and two-hand touch, the league will never be a safe place to play.